5 interior design trends to watch out for in 2018
Date:
Category: Inspiration, Trends
Tags: Trends, Inspiration, Vases and Flowers, Office Desks, Bookcases and Room Dividers, Coffee Tables, Cushions, Towels, Decoration, Sofas, Armchairs, Chest of Drawers, Bed frames
2018 is a year of fantastic interior design trends. Whether it's about updating your whole home to stay on trend, or adding a few furniture pieces and accessories here and there, to lend your home a new look. From 70s glam to all things greenery, we have put together 5 of the hottest interior design trends for 2018, to help you style your home.
1. Patterned greens and blush pink
Greenery and all things botanical, is a trend that isn't going anywhere for 2018. With more of a emphasis on patterned plants and plants that have a little colour, greenery will stick around this year. The best way to achieve this trend is to start off with a few plants in the house, whether they are real or faux (as sometimes you can never actually tell.) Style your plants with simple vases and contrast the bright greens with blush pink. An easy way to achieve the pink and green combo is to have a blush pink wall, with lots of hanging plants or a few floating shelves to display your greenery.

2. Modern Scandic
Being a Scandinavian company, we know how to get the modern Scandic look spot on. Think structured furniture styles with exposed metal and natural woods. This trend is easy to achieve with just a few furniture pieces. Whether this means a modern Scandic styled desk, a bookcase or even an end table. Add one or two items to a room to try this trend in your home.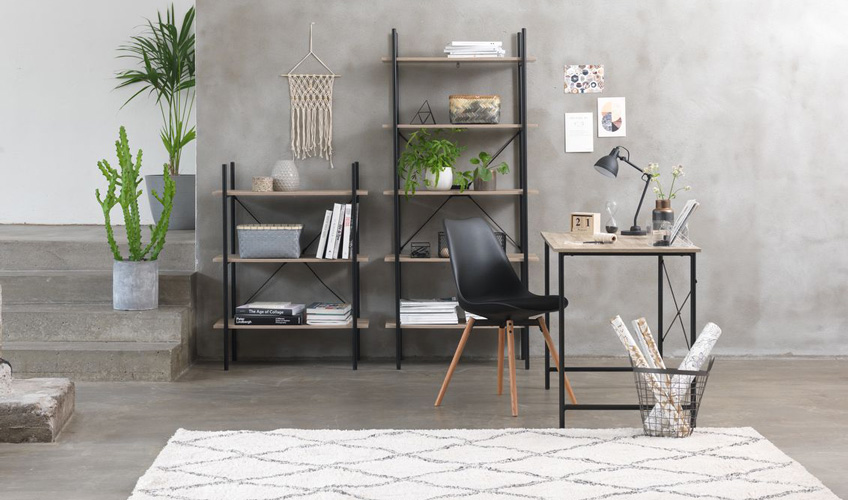 3. 70's glam
70's glam is making a grand comeback in 2018, and we love this interior style. Eccentric glam with lots of gold and metallic accessories, plus monochrome themes as well. Start off with 70's glam in an easy way with the odd cushion and decorative accessory, then take this trend to the next level with golden furniture pieces and structured sofas and armchairs.

4. Teal features
Teal has been a popular colour in 2017, and it isn't going anywhere soon. An easy colour to work with as a lot of other colours work with teal, especially gold and blush pink. Teal is a colour worth investing in this year as it can be used in so many places in the home. From cushions, to towels, to paint, we're sure you can fit teal into your lives.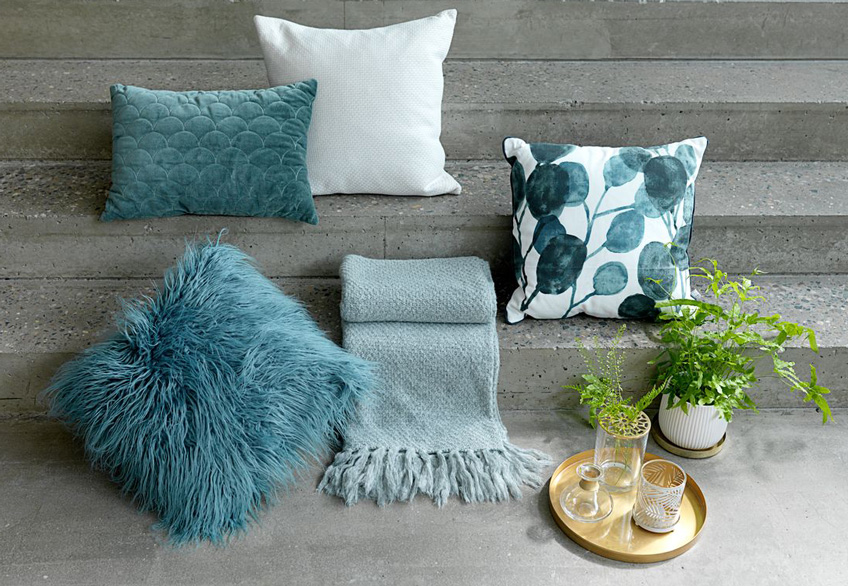 5. Dark woods
Dark wooden furniture is making a classic return. From whole matching furniture sets, like the VEDDE range, or whether you choose to opt for a dark wooden chest of drawers, a bed frame or a coffee table, this trend can look great in a British home. An easy trend to work with as a lot of styling isn't required. Team your dark wooden pieces with simple accessories for a minimalist, classic look.