It's that time of year to spend a long weekend in a muddy field whilst listening to great music at this years summer festivals! But are you prepared? What should you actually pack for your long weekend away? The possibilities are endless, so take a look at the quick list below and then read on and learn what festival camping gear you can't live without at this seasons festivals:
Tent
Sleeping bag
Air bed or camping mat
Gazebos/parasols
Camping chairs
Outdoor games
Cool bags
Toiletries
Don't forget your tent!
A good festival tent is essential when planning your festival. No matter how the weather is going to be, it's fantastic to be able to retreat into your own tent and seek some shelter. But how do you pick out the perfect festival tent?
It's important to know from the beginning how many people are going to sleep in the tent, and how closely you want to sleep. Even if you're only sharing your tent with one friend you still might want to have a tent with several cabins and a common area, especially if you both aren't very good at packing light. The most important thing is that you pick a tent that fits exactly your needs, also in regards to how advanced the setup is. A few extra tent pegs can be extremely valuable, and that way you're safe in case you happen to loose a few.
Don't miss out on great sleep at the festival
When it comes to the ideal festival gear, a good sleeping bag and a good inflatable mattress or camping mat are essential. You're most likely not going to get a lot of sleep at the festival, and that's why it's important that the sleep you do get is of high quality.
When you're choosing which sleeping bag you want, it's important to remember to take the weather into consideration. The warmth of your sleeping bag should of course be depending on how warm it is at night. Even a warm summer evening can get pretty cold during the night, so don't underestimate the importance of a warm sleeping bag. 
Set up a great camp with festival camping gear
You rarely go to a festival with your friends just to listen to music. Often it's also the legendary parties in your camp that's appealing. That's why it's important to create a nice camp where you enjoy hanging out, no matter what the weather is like – and you can make that happen with the right festival equipment.
To shade you from the sun or shelter you from the rain it's an advantage to invest in some umbrellas or gazebos. Also camping chairs are indispensable in the camp, and even better if you can relax in them around a campfire.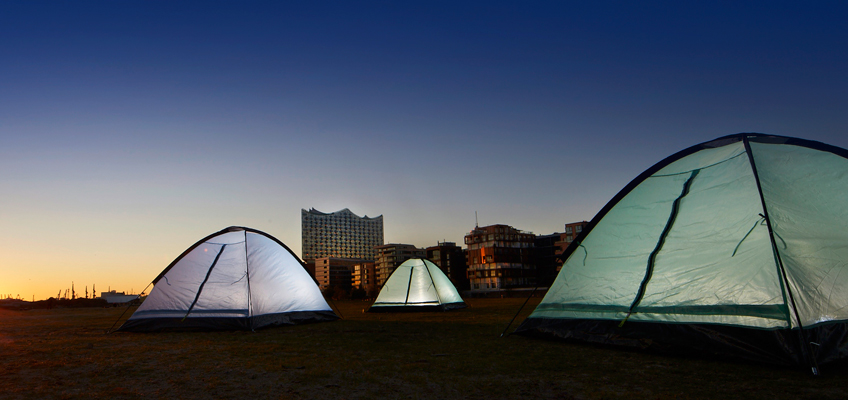 Entertainment in your camp
A festival is a place where play is allowed! Remember to pack some fun things in your festival kit. Balls, inflatable pools and water guns – at a festival you earn extra points to bring some of the things your inner child loves to play with. Aside from being good for passing time, the right activities will also probably attract fun and original festival characters to your camp. And it helps create unique festival memories of a lifetime. 
Toiletries at the festival
The right toiletries are important at a festival. Being at a festival with the likes of blisters, can really ruin your weekend. Therefore pack some plasters in your bag before you go. It's also a good idea to pack the things you need everyday in a small toiletry bag - such as a toothbrush, toothpaste, hand sanitiser, suncream, mosquito repellent and medicine. Then pack the things you aren't going to use as often, such as plasters, painkillers, dry shampoo and deodorant in another bag. 
Remember your towel
Showering might not be your most frequent activity when you attend a festival. However, it's still a good idea to bring a towel. In some festivals there is a possibility to swim in a lake or in the ocean – and then a towel comes in handy. You should choose a towel that isn't too big, so it won't take up the all the space in your bag. If you have a color scheme in your camp, you can choose a matching towel.
Add a few things to your camping checklist
A few practical considerations are important. Besides your camping gear you should remember a few things:
Sunglasses and hat - avoid being blinded or sunburnt on your scalp
Good shoes/wellies
A small bag or similar to carry the things you want by your side at all times
If you have mastered all of the above, then all you need to do now is have a great time!