Affordable living room furniture for 2018
Date:
Category: Living & Dining, Space Saving & Thrifty Ideas
Tags: Living Room, Sofas, Sofa Beds, Candles and Lanterns, Vases and Flowers, Cushions, Carpets and Rugs, Storage, Office Desks, Dining Tables, Dining Chairs, Armchairs, Coffee Tables
Every once in a while, your life takes a turn, and you get the chance to start from scratch. This could mean a new place to live and maybe the opportunity to furnish the place according to your own taste and no one else's. Take a look what essentials you need in your living room to start off with, and what other items you can use to make the space your own.
Relax
Just checking: Is there a bedroom at your new place? Well, there probably is, but what a spare bedroom? If not, then say hello to a piece of furniture that leads a double life: Bed at night, sofa by day. With a sofabed you can save both money and space in your new living room for when you have any guests stay over.
 

If you do have a spare bedroom, then consider going for a lightweight sofa or maybe a couple of armchairs that are easier to move around. You also need a small table, either a coffee or end table, for your cups of coffee and one or two lamps for atmosphere. 

Eat
Does your new place have a kitchen with enough space for a table and chairs? For some, eating in the kitchen is nice and informal and it lets you entertain your guests while cooking. For others it can be stressful to have dirty pots and pans around during dinner. Think about what you like and find a nice small table, maybe with an additional element for extending it for when you have company. 

Work, storage …
Up next: Work space. If you can avoid doing assignments and paperwork at the dining table, you probably should as it can become tedious to move your files and laptop around whenever you sit down for a meal. They should not take up primary space in your living room – but keep them here and not in the bedroom. If you're happy with the dining chairs, you can use one of them at the desk. You also need storage for books, clothes and general bits and bobs. Find your favourite style and stick to it so that your new home gets a consistent look.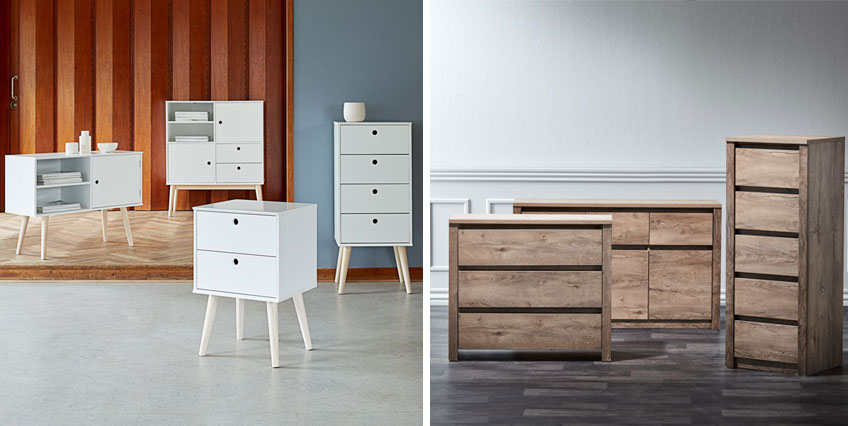 Last but not least – it's the little things that count when you are making a home for yourself. Candle holders, vases, cushions, rugs ... Pick a colour or style and stick to it – that way you create a homey feeling that does not come across as cluttered or messy. If you feel comfortable with your own decorating skills, you can add little quirky variations to achieve a dynamic and intriguing look.