If you're looking for that one chair that fits perfectly into your home – even when you decide to rearrange or change your home décor – you should take a look at our JONSTRUP furniture collection. If you don't already know it, or if you just want to learn more, this blog post is for you.
The JONSTRUP collection consists of several dining chairs, bar stools and table and even an office chair. In this blog post, we will highlight some of the products that have received 4 or 5 star ratings from our customers.*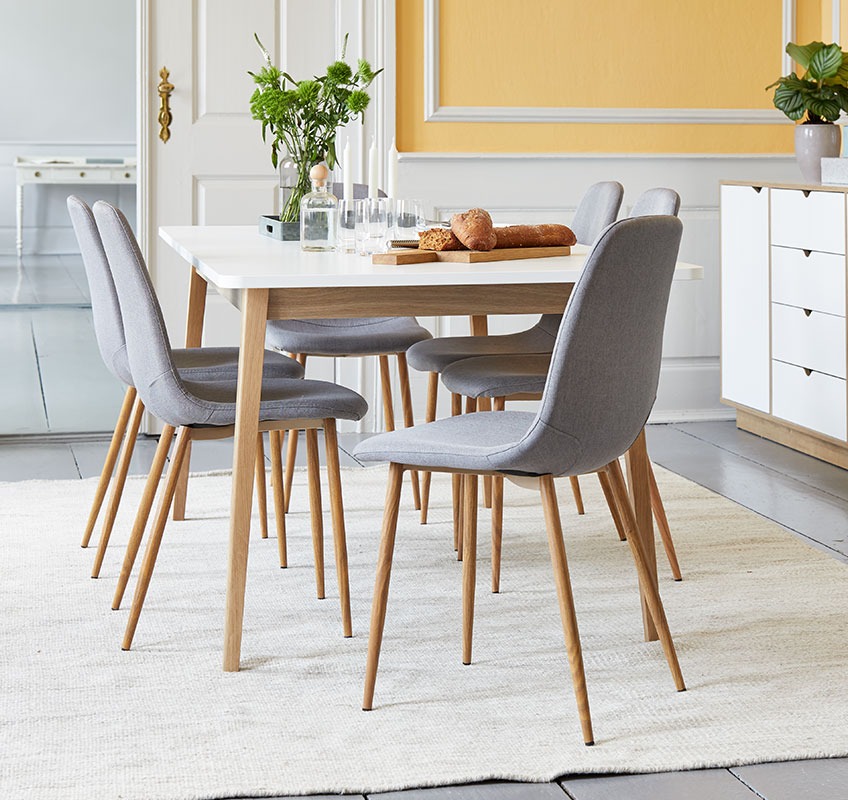 Do you prefer grey, black, gold or oak?
The most popular product in the JONSTRUP collection is the dining chair that comes in several colours and materials which makes it easy for you to mix and match with your other dining room furniture. The JONSTRUP dining chair in cognac coloured faux leather and oak has received a 5 star rating from our customers. One of the 5 star ratings on JYSK.uk is elaborated with these words:
"These chairs are worth every penny and very comfortable […] They say you get what you pay for, but not in this case – you get a lot more than what you pay for an absolute bargain."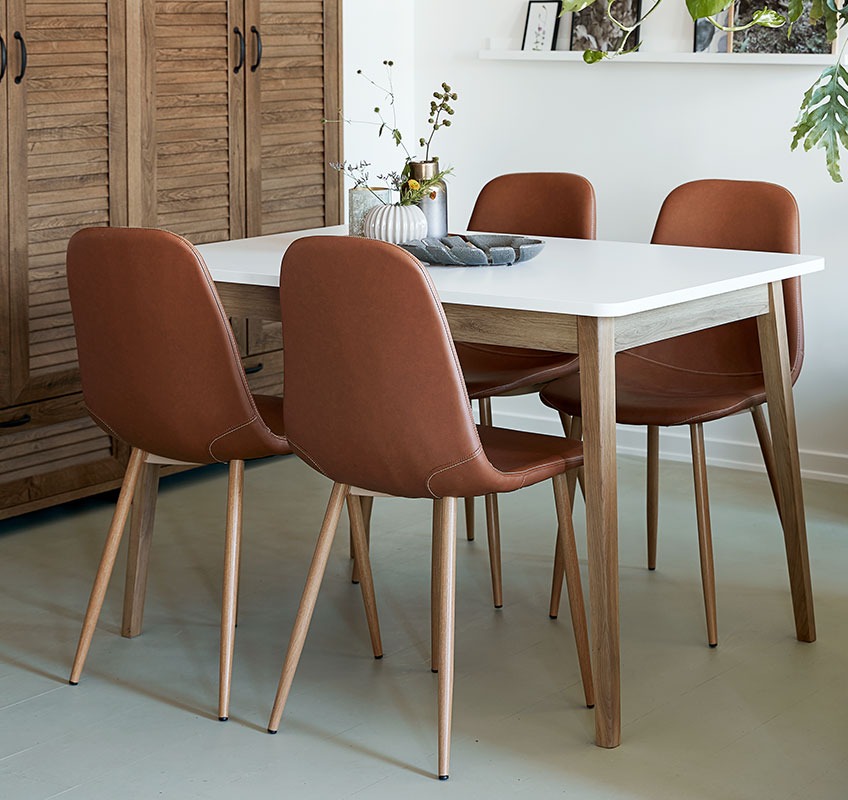 Another option is to go for the newer JONSTRUP chair in black and gold that is one of the more modern dining chairs. The classical and stylish black colour is here combined with a glamorous gold touch on the lower leg. This chair also receives a 5 star rating from a customer on JYSK.fi: "Comfortable and good quality."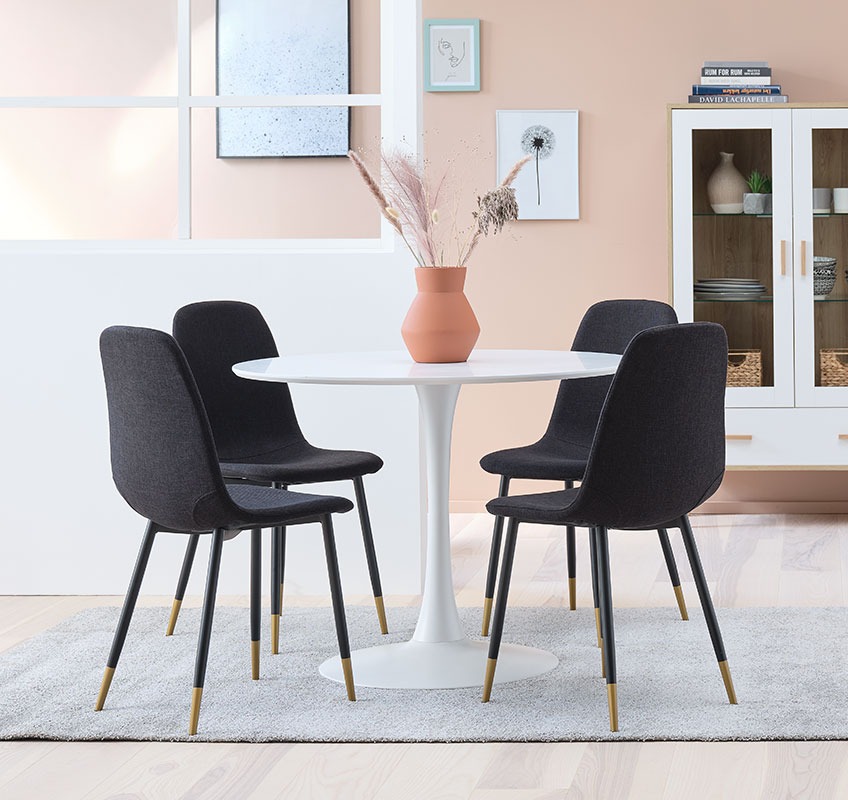 Perfect setting for a drink or just a conversation
The JONSTRUP furniture collection also includes bar stools and table. The timeless design of the seat and legs on the bar stool makes it easy to fit in whether it's in a small apartment or in the corner of your kitchen.
A customer on JYSK.ba gives a 5 star rating to this bar stool together with the words: "They fit into a modern but also retro style."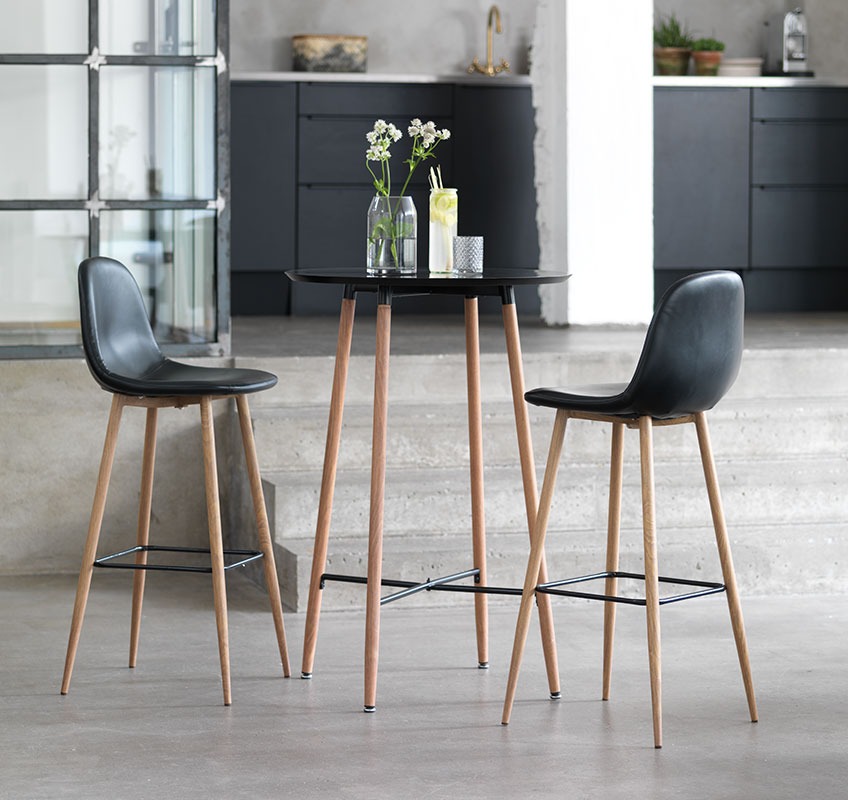 But why is JONSTRUP so popular?
With 4 or 5 star ratings on all products, the JONSTRUP furniture collection is one of our best-selling series. Is it the reasonable price? The design? Or maybe the combination of these parameters? It becomes clear that especially value for money repeats itself, when reading the reviews from our customers. A customer on JYSK.dk has written this comment: "JONSTRUP has good seating comfort and support. You get a lot for your money."
The thing about the JONSTRUP furniture collection is that styling your kitchen, dining room or office becomes very easy when you have one or more of the different chairs from this collection. The materials and colours gives you the opportunity to create a timeless, yet stylish home.
What is your favourite item from the JONSTRUP collection?
Check out the full JONSTRUP collection.
* The reviews stem from the JYSK NORDIC countries, that count: Denmark, Sweden, Norway, Finland, Poland, the Czech Republic, Hungary, Slovakia, the Netherlands, Slovenia, the United Kingdom, Croatia, Bosnia and Hercegovina, Serbia, Ukraine, Romania, Bulgaria, Greece, Belgium and Ireland.