The Lykke's are a Danish family that never considered that their duvets and pillows have a profound impact on their quality of sleep. During the coming year we will follow them on their journey towards a good night's sleep.
The family consists of four members: Louise (35), Karsten (33), Uma (2) and Thit (8). They never put a lot of thought into their choice of duvets and pillows "I really didn't think a duvet could make a difference," Louise says.
Which is the best duvet?
Louise and Karsten go to bed around 10 p.m. and get up again at 6.30 a.m. on weekdays. Louise finds it difficult to fall asleep and wakes up several times during the night. Karsten sleeps immediately and doesn't wake up until the alarm goes off. Louise and Karsten's duvets are the same type and they bought them on a special offer. "We have definitely spent more money on bed throws than on duvets," they laugh.
Karsten's duvet is too warm, so he often sleeps without it. "I always feel warm during the night, so I don't really sleep with the duvet," he says. Louise, on the other hand, pulls her duvet all the way up to her chin to stay warm all through the night, but "as soon as I get out of bed, I forget it," she says. "We forgot how important duvets are for your sleep."
Karsten and Louise sleep next to each other in the same bed. That is why it is important that they get a duvet that fits their individual needs. JYSK has the right solution for them – we offer duvets with different insulating power: Cool, warm and extra warm. This gives Louise and Karsten the opportunity both to choose a quality duvet with different fillings. Louise chose an extra warm single duvet and Karsten a warm single duvet.
Get tips on what bed linen size to choose
Why a pillow is important
The same way that you try on a dress or shoes before buying, you should try your pillow. At JYSK you can find low, medium and high pillows. After lying down and trying both medium and high, both Louise and Karsten chose a high pillow.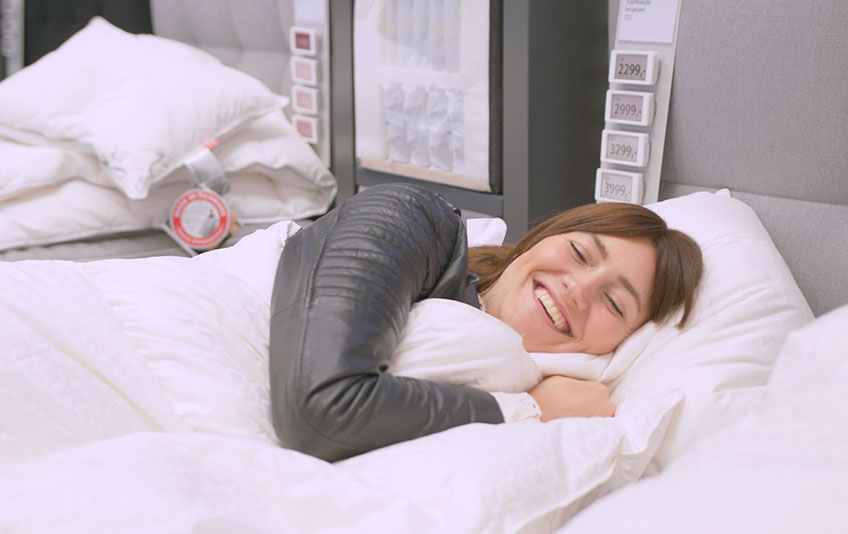 Duvets and pillows for children
The girls, Thit at 8 years and Uma at 2 both get warm at night. They usually kick off their duvet during the night, so their parents have to cover them up again.  
Thit sleeps with her nightwear on, which is important to keep in mind when choosing a duvet. The family chose a cool duvet for her and a low pillow. It is important that children get a pillow that isn't too high as this can damage their neck.  
For Uma at 2, the family chose a junior duvet and pillow. The Lykke family is now all well equipped with duvets and pillows to suit their needs. Stay tuned and find out what a well-considered choice of pillows and duvets can do for both your sleep and your day-to-day life.