Nothing creates instant holiday cheer like a beautifully wrapped gift. To make it easy, we have gathered our favourite creative tips to spruce up your gift-wrapping game.
1. Add a touch of nature to your wrapping
Search out gift-worthy greenery in your backyard or in the woods. Look out for seasonal greenery such as pine cones, spruce, cypress, and clusters of red berries.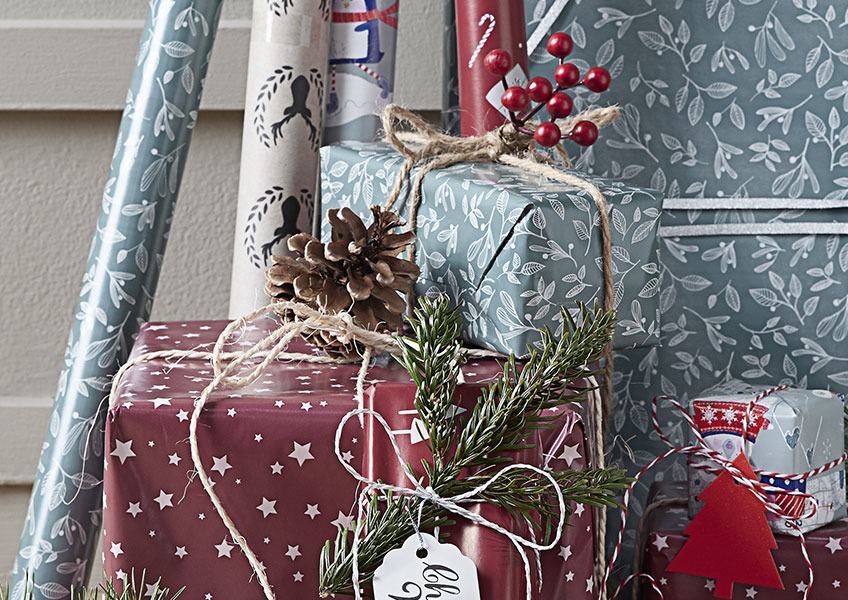 If you are not into foresting yourself then most supermarkets or florists sell different greenery. Dried flowers are also a beautiful addition to a gift. Choose a single flower or make a tiny bouquet and add it to the bow.
2. Personal gift tags that bring out a smile
An easy way to add that personal touch is to write a small greeting on the gift tag. It can be as simple as writing a few words that describe the receiver or maybe a small quote from your favourite Christmas song or movie.
For example, "Have yourself a merry little Christmas. Let your heart be light. From now on your troubles will be out of sight" from the Christmas classic Have Yourself a Merry Little Christmas.
If you want to take it a step further, you can create a small riddle that leads to who the gift is from. This will definitely bring out a smile or two.
Lastly, you can discard the traditional gift tags and print out images of yourself and the giftee. A small reminder of your relationship that can be kept long after Christmas. 
3. Wrap the Christmas gift in a gift
A closed basket is a really nice-looking way to wrap your presents. This can be used when your gifts are smaller items such as a soap dispenser, soap dish or toothbrush holder. The basket can also be used afterwards for storage.

You can also go for an even more creative option by wrapping a pillow in a pillowcase or a duvet in a duvet cover. Add a beautiful ribbon and avoid the traditional wrapping paper. You could also wrap a decorative pillow or picture frame in a throw - the possibilities are endless. 
4. Add homemade decorative elements
Create small perler beads shaped like stars, hearts, Christmas trees – only your imagination sets the limit. You can use them as gift tags, but they are also great as extra decoration. You can either glue them onto the gift paper or add them to the gift ribbon.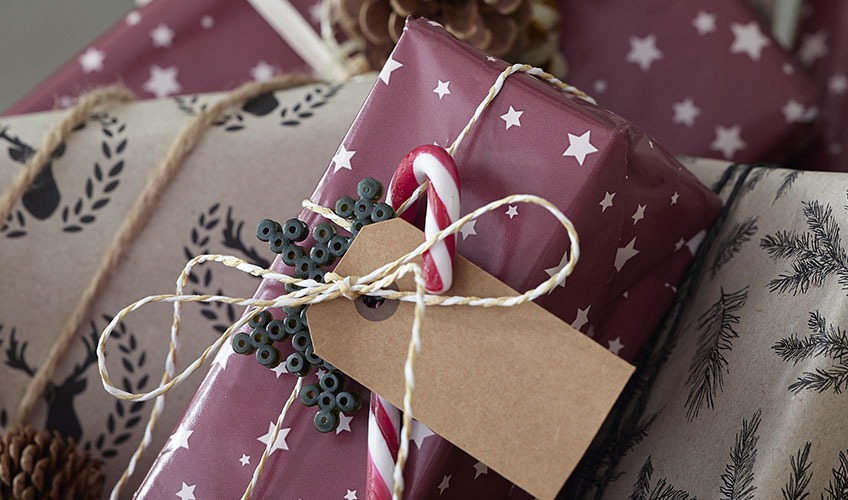 Another option is to cut out small figures of cardboard paper. A white angel is simple but very effective and will match all types of wrapping paper. A quick search for an angel template on the internet will give you a great starting point.
5. Decorate Christmas gifts with edible treats
Homemade Christmas treats are in themself a lovely gift, but they are also perfect for elevating your wrapping game.
Christmas cookies decorated with frosting are both beautiful and delicious. Remember to make a small hole in the cookies before baking for the gift ribbon to go through. This is great fun for Christmas lovers of all ages.

Another classic is dried orange slices or cinnamon sticks. They are super decorative and smell very Christmassy. Glue them onto the wrapping paper or tie with the gift ribbon.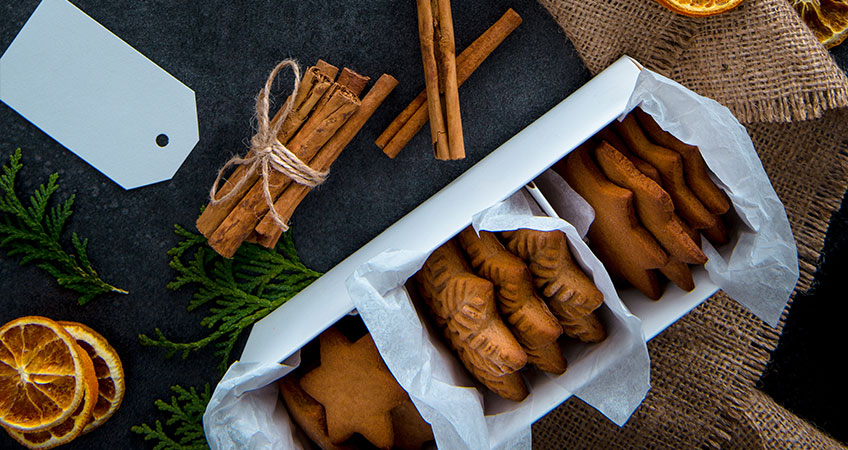 Need an easier option? Then go for the store-bought sweets – especially the red and white candy canes scream Christmas.
6. Reuse your old fabrics as wrapping paper
Cut down on the wrapping paper and wrap your gifts with fabric this holiday season. This more sustainable swap is perfect if you have old textiles lying around. The fabric's flexibility means it covers odd shapes and won't tear at corners. A quick search for video guides will show you many beautiful ways to wrap with fabric.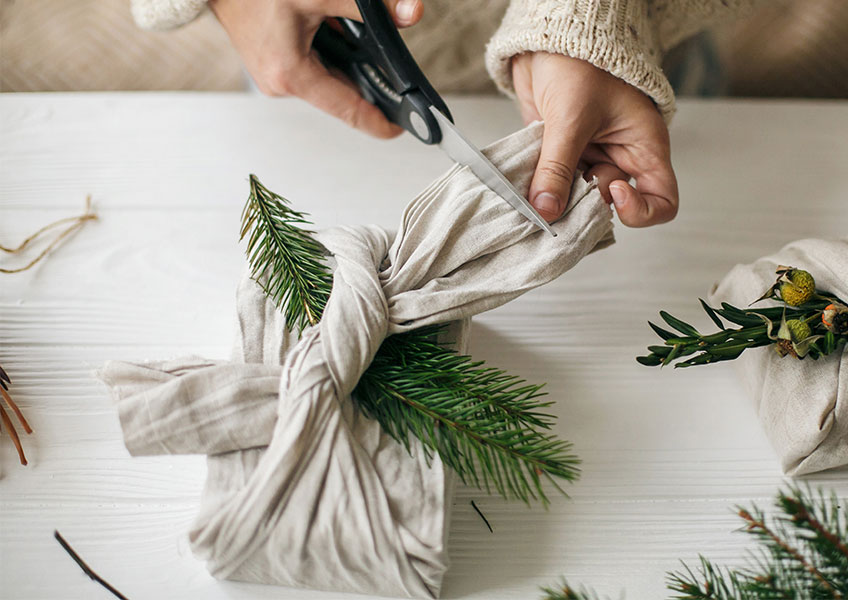 Not up for wrapping in fabric? Then another great way to wrap your Christmas gifts is with the festive and recycled wrapping paper KARDUS. You can add Christmas baubles to the ribbon, which can be used as decoration for next year's Christmas tree.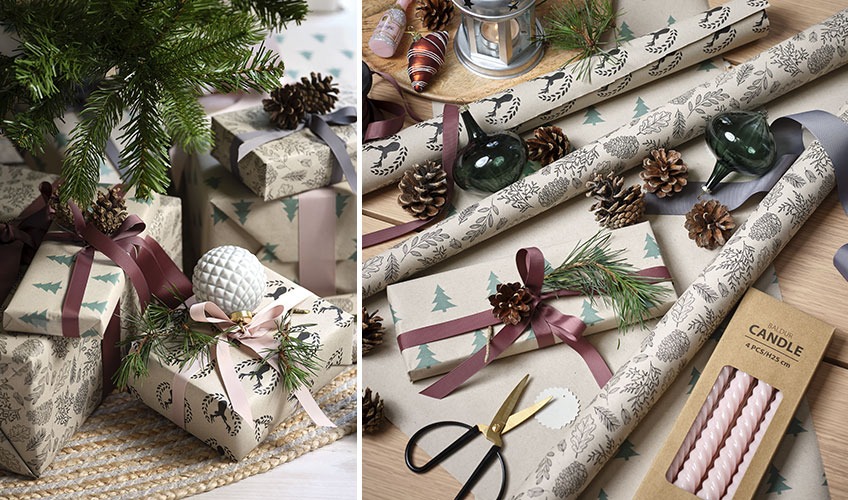 Combine the 6 tips in exciting and creative ways for truly unique and personal Christmas present wrapping.