Since 2006, JYSK has been a member of FSC® Denmark and the FSC label is found on all of our wooden garden furniture (FSC® N001715). FSC® which is short for Forest Stewardship Council is a non-profit organisation and labelling system for wood and paper, which originate from responsible forestry, where animal and plant life is taken into account. When you buy FSC-certified products, you help take care of the world's forests.
Read more about FSC at JYSK
Caring about being more sustainable as a consumer also means caring about quality. That is why we are proud that our wooden furniture receives so many great reviews from our customers.
We have collected a list of our most popular wooden garden furniture in this blog post*.
YTTRUP wooden garden table: 4.7 star rating
YTTRUP is a wooden garden table with an aluminum frame and a table top out of FSC-certified eucalyptus hardwood. It has a 4.7 star rating on JYSK.co.uk and receives a 5 star rating along with these words on JYSK.pl from a happy customer:
"Great table, I recommend it!"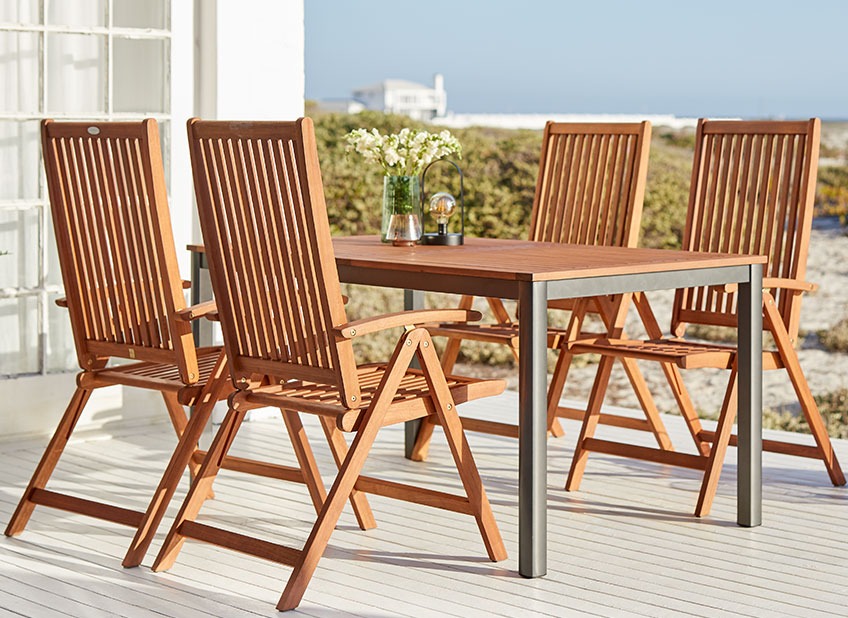 Combine the YTTRUP table with four KAMSTRUP recliner chairs and you can enjoy the summer sun in good conscience. The KAMSTRUP recliner chairs are also made out of eucalyptus hardwood and have a rating of 4.6 on JYSK.co.uk
One of our customers give them 5 stars on JYSK.hu along with this comment:
"High quality, attractive, easy to use, comfortable chair"
If you wish to create a lighter look on your patio or balcony, you can instead combine the YTTRUP table with the LARVIK recliner chair or stacking chair. They consist mostly of metal, but naturally, the wooden armrest is FSC-certified eucalyptus hardwood.
The recliner chair has a 4.8 star rating and one of our customers describes it like this on JYSK.cz: 
"Great price, comfortable quality armchairs" – and leaves it a 5 star rating.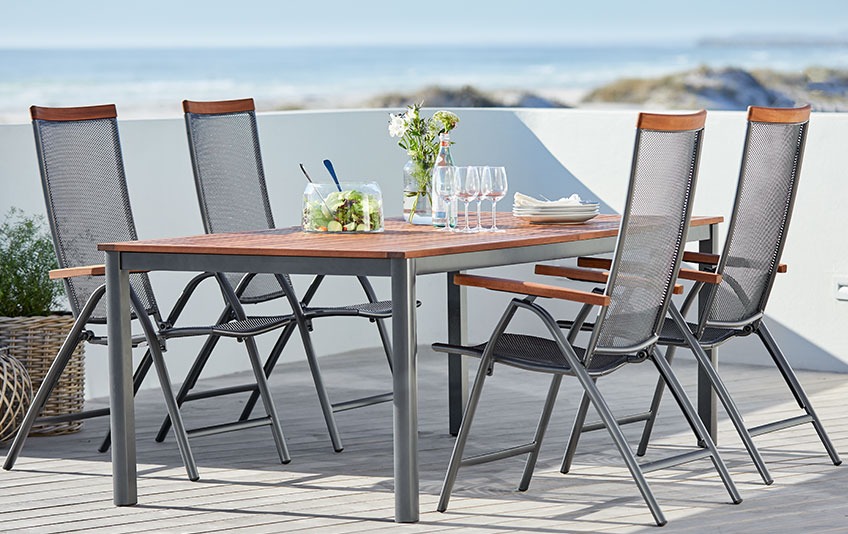 The stacking chair has a 4.9 star rating and receives 5 stars and these words from a customer on JYSK.ba:
"Beautiful design, comfortable, quality. Very pleased."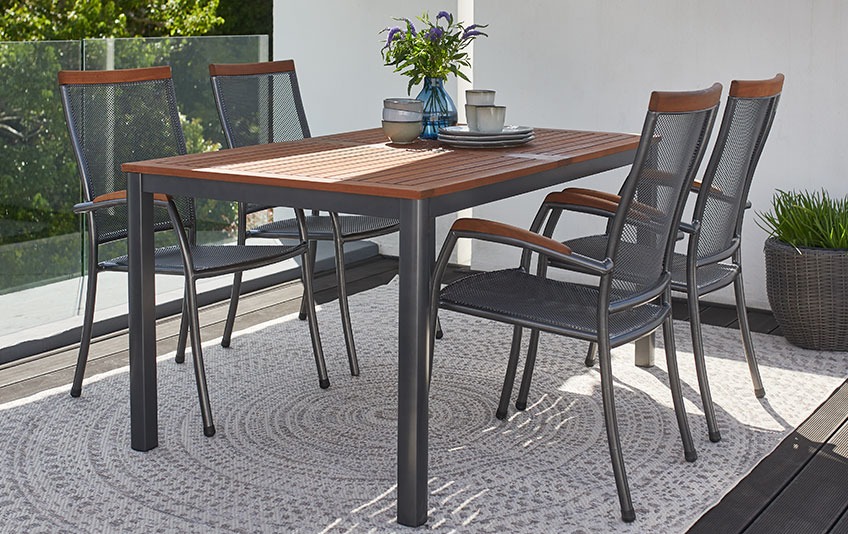 DALRIPA wooden sun lounger: 4.7 star rating
The frame, the back and the seat on the wooden sun lounger DALRIPA is made out of FSC-certified eucalyptus hardwood. You can adjust the back and either lie flat or in an upright position that feels comfortable.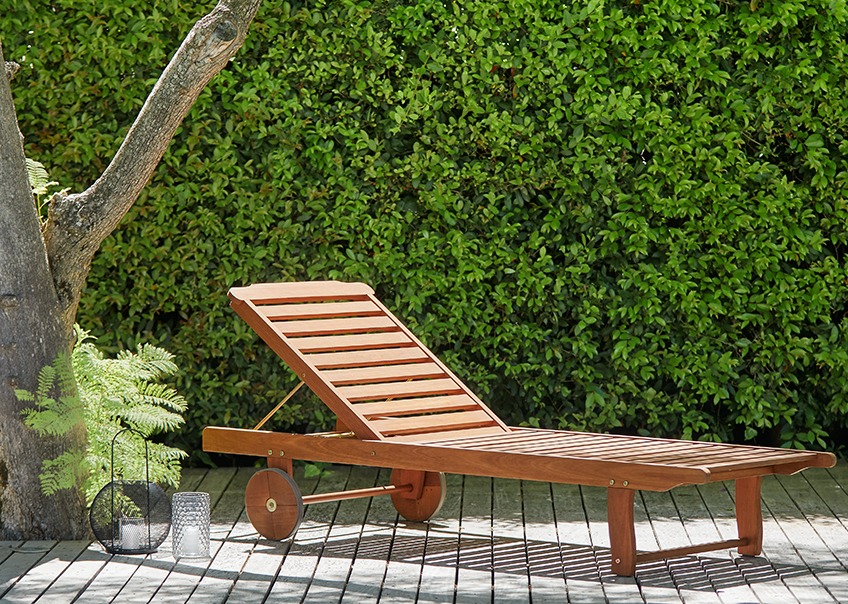 DALRIPA has a 4.7 star rating on JYSK.dk. One of our customers must be super popular with the in-laws. They gave it a 5 star rating and describes it with these words:
"Super nice sun lounger, it made my mother-in-law really happy"
Don't forget a to get a comfy garden cushion.
HVIDE SANDE wooden garden bench: 4.5 star rating
HVIDE SANDE is quite a different style but elegant and classic at the same time. The entire wooden garden bench is FSC-certified eucalyptus hardwood.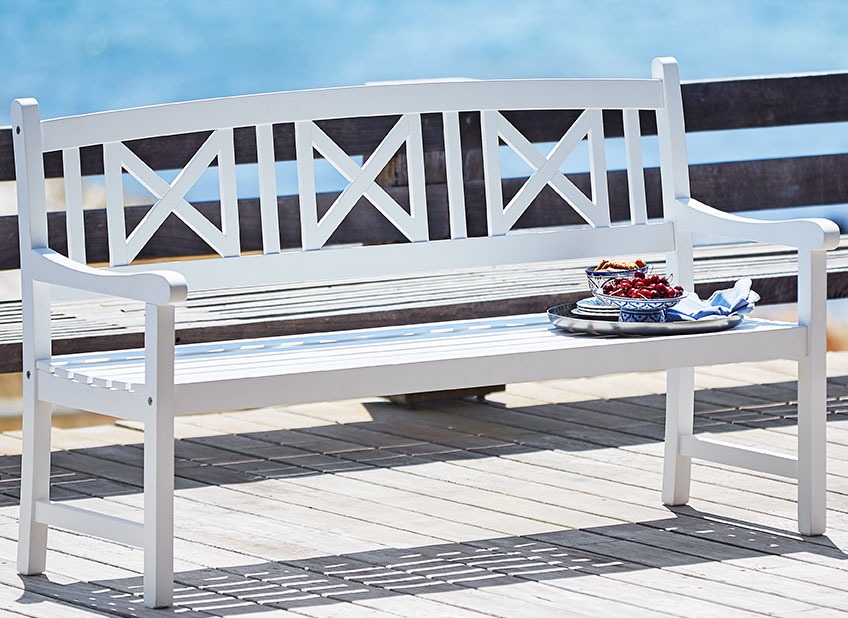 It has a 4.5 star rating on JYSK.co.uk and receives these words on JYSK.fi from a thoughtful daughter or son.
"A beautiful bench for mom as a Mother's Day gift" – along with 5 stars.
KNEKKAND – FSC-certified wooden deck tiles
Our deck tiles KNEKKAND are made out of acacia hardwood. They can create a warm, exotic atmosphere on your patio or balcony, and are comfy for bare feet.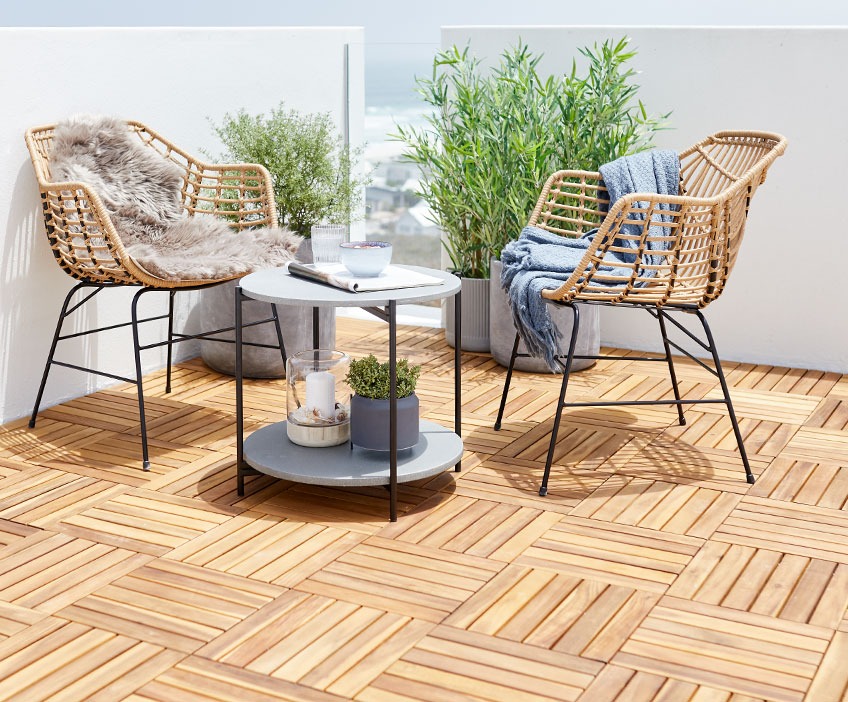 On JYSK.ro a customer leaves this comment along with a 5 star rating:
"Just like in pictures! They are very easy to assemble and easy to maintain."  

Get more ideas for a trendy patio or balcony with wooden garden furniture 
* The reviews stem from the JYSK NORDIC countries, that count: Denmark, Sweden, Norway, Finland, Poland, the Czech Republic, Hungary, Slovakia, the Netherlands, Slovenia, the United Kingdom, Croatia, Bosnia and Hercegovina, Serbia, Ukraine, Romania, Bulgaria, Greece, Belgium and Ireland.