When the sun starts to set during the spring and summer months, there is no reason to head indoors. Summer nights are designed for staying out late with friends, sipping coffee, chatting and basically enjoying life.





Inviting friends and family over creates the grounds for an intimate atmosphere, personal conversations, and the fun doesn't have to end until the last person heads for the door. Last but not least, whilst is is easier on the wallet than dining out, it's only a little more demanding. All you need to do is prepare a meal or a few snacks, then to provide a few drinks.
Outdoor dining sets
You can create your own outdoor party on your patio or balcony or just invite friends and family over for a relaxed cup of coffee. Lead your guests straight to your outdoor space and with the right styling tips, they won't even notice that they aren't dining in a restaurant.

Start off with the right dining set. Depending on the size of your outdoor space, consider a small bistro set or a garden set with chairs for 4 or more people.

A lounge set is also an option. This kind of furniture is ideal if you want to bring the comfort from your living room with you to your garden or balcony. If you have a lot of room on your hands, go for a garden swing – fun for children and relaxing for adults.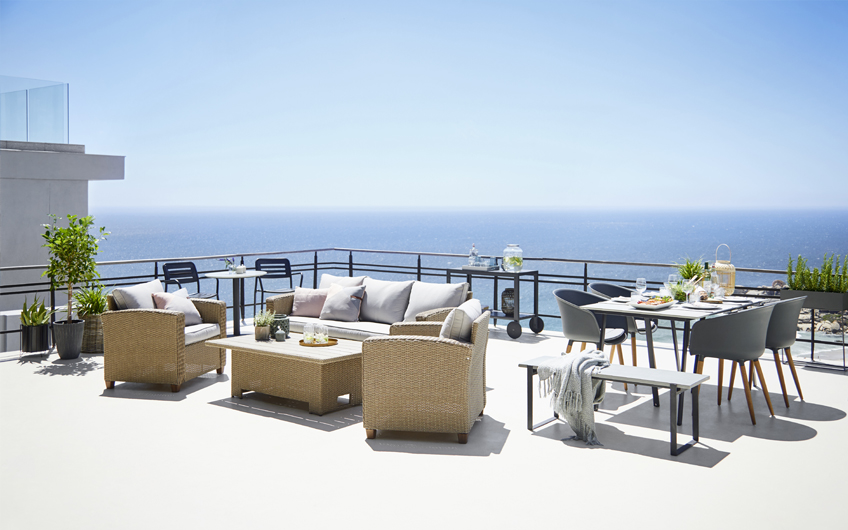 It's up to you …
Although the setting sun helps you create the right atmosphere, it's up to you to add that final touch to create an unforgettable evening and night. Make sure your guests are warm and comfy with throws and cushions and spice up your design with planters, tablecloths, lanterns and the right lighting.