Garden lighting can extend the summer evenings so you can sit outside when the sun has gone down, and it is still warm in the weather. Read on and get outdoor lighting ideas and tips on what to consider.
What to use garden lights for?
Start by choosing which areas of the garden you would like to illuminate and think about why. Perhaps you would like to add string light to your favourite tree for an added dose of atmosphere. Or, maybe you are on the lookout for something more practical to line your pathways.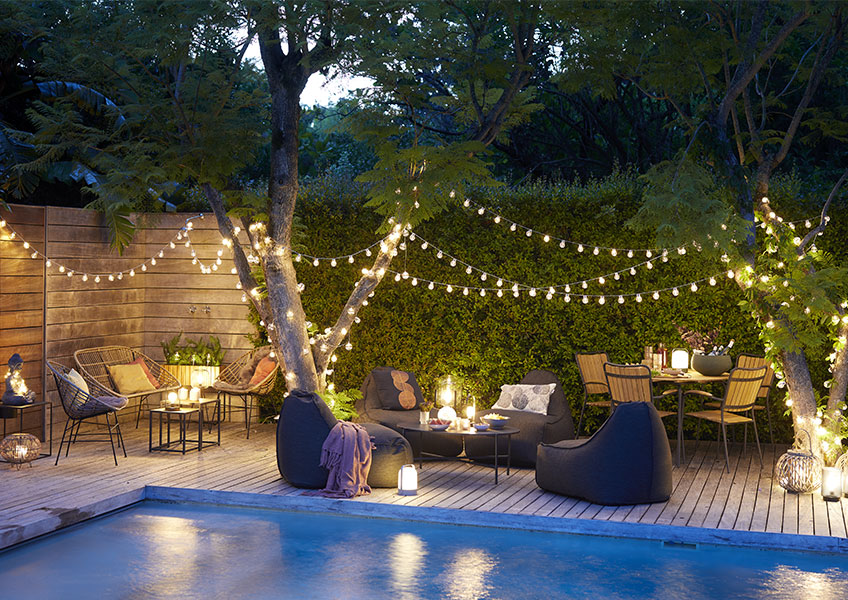 What type of garden lighting to choose?
Decorative lights will add a warm atmosphere and are perfect for both balconies and larger terraces. If you plan to enjoy the summer evenings with a game of cards, some delicious snacks, cold beverages – or a combination of all three – then you might be able to manage with a combination of decorative portable lamps, lanterns, string lights and solar lamps.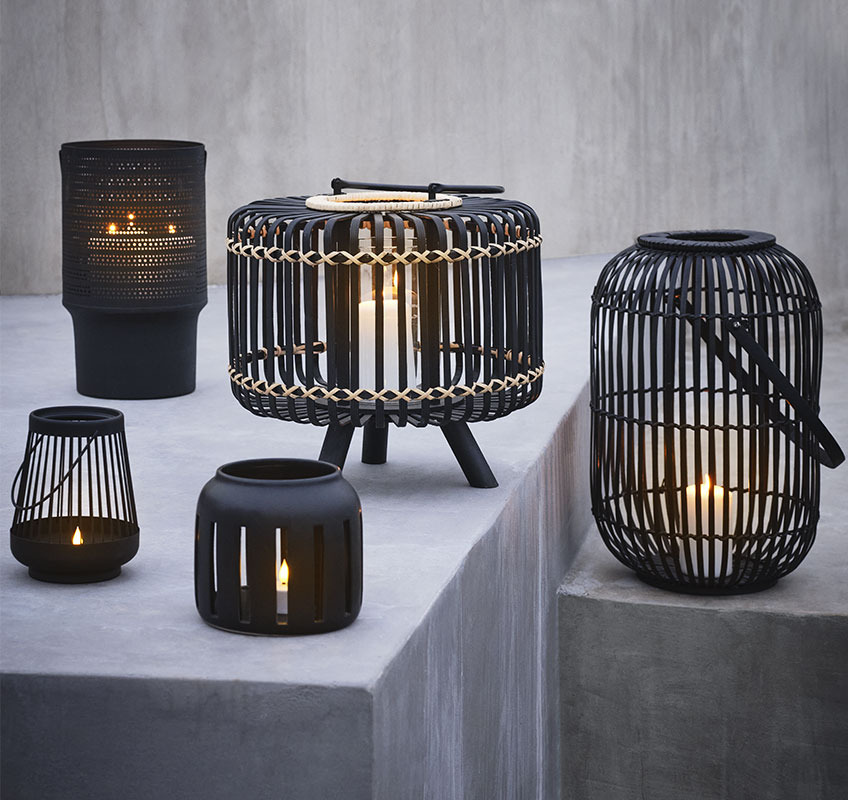 Cosy flickering lights with garden lanterns
Garden lanterns are one of the favourites to create cosy, atmospheric lighting on the terrace on late summer evenings.
If there are parts of your terrace or balcony you like best, you can advantageously highlight the area with decorative lights. For example, put small lanterns on the table as a decoration when you eat. Place large lanterns on the ground in different corners, so that together they create an outdoor space. Group together lanterns in different designs for added impact.

Lanterns can also be hung from tree branches for a charming touch. By hanging the lanterns, you will also frame your outdoor space and create a nice setting for your evenings.
Easy and stylish outdoor light with solar lights
Solar lights are both decorative and energy-saving outdoor lamps. Use them to create a cosy atmosphere on your balcony and terrace, or to light up the driveway and garden when it is dark. When buying a lamp with solar cells, do not worry about wires, because the lamp can be easily moved around the garden.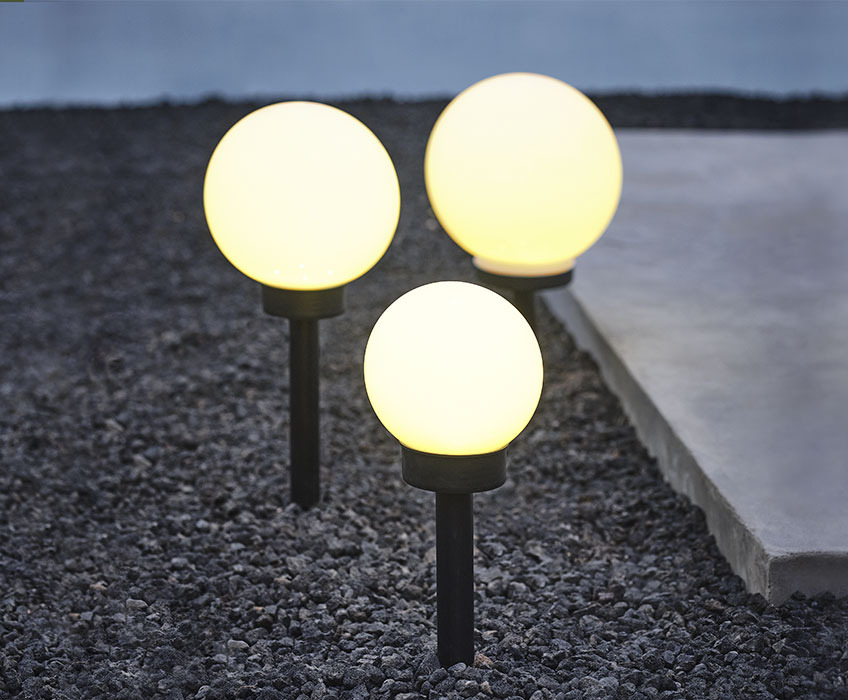 Solar lights are activated when the sensor located at the top of the lamp detects darkness. Here the lamp uses energy, charged on the battery during the day. Therefore, the number of hours the lamp is lit may vary depending on the weather.

Smaller, more slimline stakes are also a great choice for outdoor lighting ideas for paths. And they can also be used to great effect in-between planting to highlight your favourite flowers. At JYSK we also have solar lanterns perfect for the terrace or on the garden table. 
Move around with battery lamps
Battery lamps are great because you can easily move them and bring them with you around in the garden. No need to worry about candles, cords, and electricity and allow yourself to open your eyes to new areas of your garden. Maybe you have a nice corner in the back of the garden where you can place two lounge chairs and light up with battery lamps.
Create garden magic with string lights
One of the key purposes of garden lighting is to help zone your garden, highlighting key areas like living or dining spaces. String lights add an instant magical effect. Weave them around the canopy, string them along a fence to cheer up a plain backdrop or drape them around a tree for a statement display.
Add a playful edge to your lighting scheme with colourful string lights.