Introducing our new LED gaming desk HALDUM. A gaming table that packs a powerful illumination. If you are ready to go all-in on your gaming setup HALDUM allows you to light up your battle station in a beautiful fashion.
Light up your gaming experience
The HALDUM gaming desk will light up your gaming station with one integrated LED panel fitted from one table side to the other.
We recommend that you place the table at a distance to the wall. This will provide a canvas for the LEDs to shine on and creates an immersive glow onto the wall – similar to ambient light.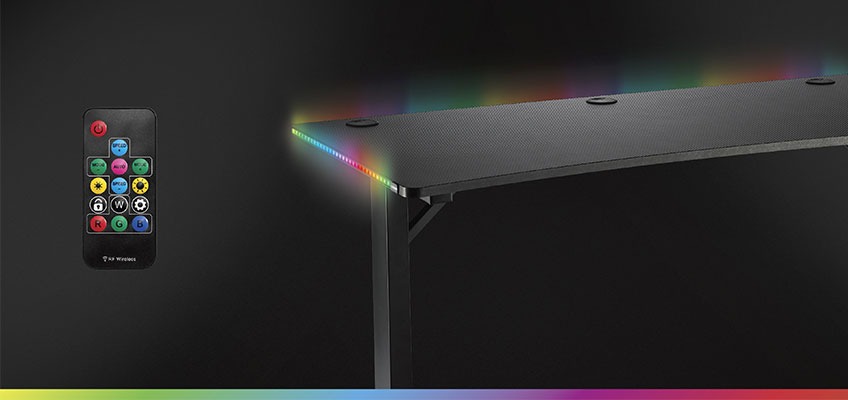 You can control everything wirelessly with the included controller. Choose from a set of pre-set effects such as the rainbow flow effect – or select a specific colour on the controller. If you are looking to match the colour of your gaming accessories, then match the colour directly on the controller.
You can adjust everything from brightness scale and flow speed of the effects directly from your controller.
HALDUM connects easily to your device
The HALDUM gaming table is "plug and play" meaning that you can easily connect it to anything that has a USB output using the included USB-A cable. Connect it to your PC, your AC adapter - we have left the choice up to you. We recommended using a PowerBank (not included) and placing it in the built-in wire mesh storage below the tabletop.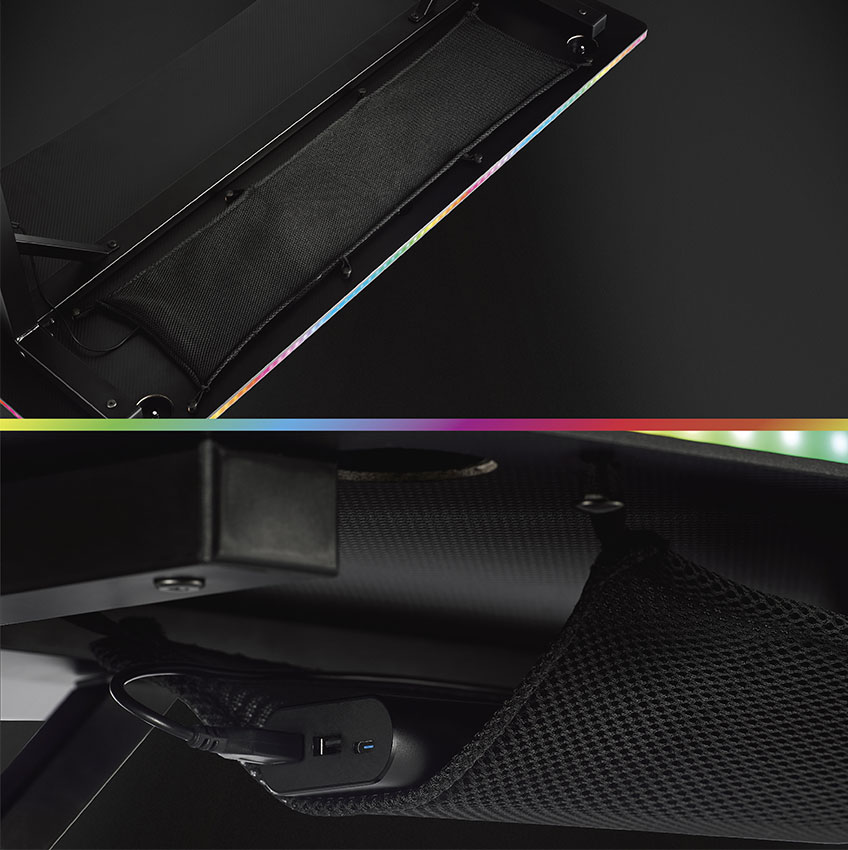 Smart and practical wire mesh cable system
Cable management is important to ensure a clean looking gaming setup. With the clever wire mesh cable system, you can route all your cables below the table and up through the cable routes in the tabletop.

Place your power adapter strips in the wire mesh system and you will only have a single cable running from your table.
Tabletop with carbon fibre texture and levelling table feet
The HALDUM gaming table has several cool features that make it stand out. Here among the detailed carbon fibre texture on the tabletop, which provides a sleek look and a great feel – ensuring a clean looking setup.
Need a new gaming chair to go with your gaming table? Check our assortment of gaming chairs in cool colours.
The rounded edge of the tabletop provides great detail next to the metal logo badge on both sides of the table.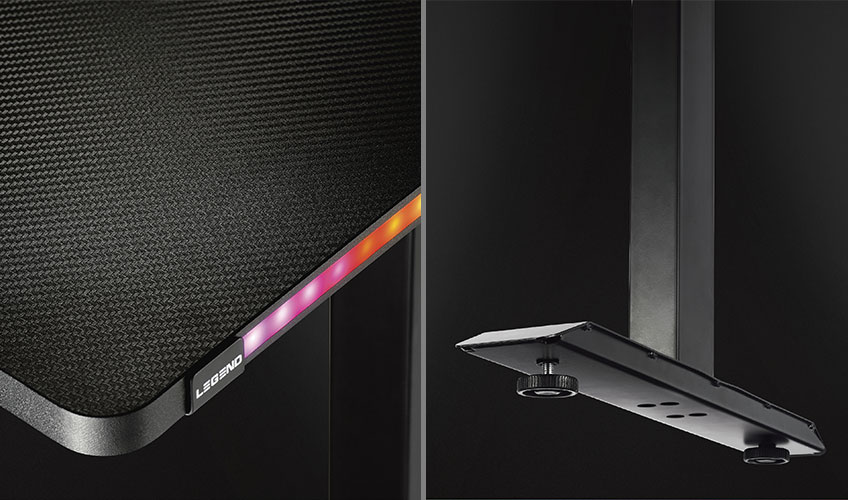 The entire frame of the HALDUM gaming desk is constructed in metal - from the support beam to the legs and feet of the table. Two large levelling adjusters are placed below the construction of each foot to ensure perfect levelling if placed on uneven surfaces.
The HALDUM gaming table will be available online and in stores on 30th July.