In the warm spring and summer months you will certainly want to make the best of your balcony, since you will probably be spending quite a bit of time there. Therefore it's important to make your balcony as cosy and relaxing as possible. Read on for cosy balcony decorating ideas and tips.
It's the little details that count
If you create a cosy balcony, you certainly create a lot of Hygge. Hygge is a special atmosphere, created through a pleasant, calming environment. Creating a cosy balcony is all about paying attention to detail and making something of its design. The choice of furniture and accessories can be crucial for ensuring the best atmosphere.
Create a relaxed atmosphere
A balcony is the perfect place to create a personal, informal haven, where you can take time out and be yourself. Hygge is synonymous with relaxation and an informal atmosphere. In other words, only when you are relaxed and totally de-stressed can you really settle down and get cosy. So if you really want your balcony to be cosy, you need to transform it into a setting for relaxation and self-indulgence.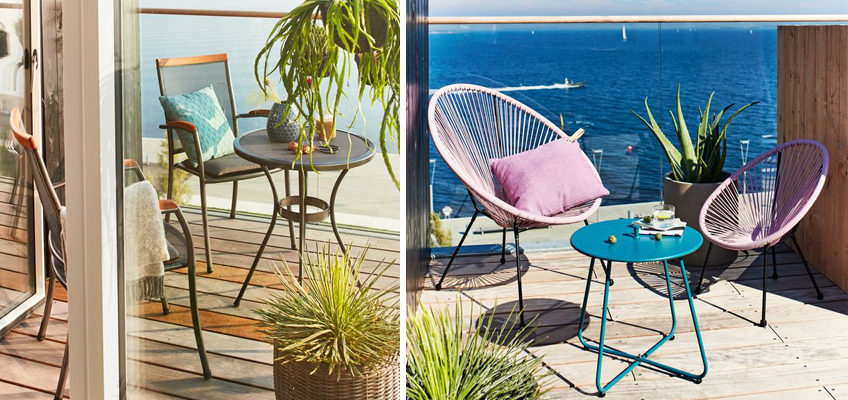 Go for lounge furniture or a set of bistro furniture
There are a number of ways to make a balcony relaxing. One perfect option is to go for popular lounge furniture for your balcony. Not only is it attractive, it's also comfy to sit on. Another option is to choose a charming, small bistro set for your balcony. Bistro furniture is simple and does not take up too much space, therefore usually an item of furniture that can fit on most balconies.
A comfortable balcony is a cosy balcony
There isn't much fun to be had from sitting uncomfortably on hard chairs or shivering when the temperature drops in the evening. So it's a good idea to have a few cushions and throws lying around on your balcony. The cushions are throws will add an extra level of cosiness, especially when you're in the company of friends or family, enjoying a nice glass of wine or a hot cup of coffee.
Enjoy your meals on the balcony
A balcony doesn't only have to be a place for putting your feet up or sipping a glass of wine. Another option for balcony relaxing is to eat your meals out on your balcony, making the best of the mild summer temperatures and the fresh air. If you do not have room for a large garden table, a bistro set will often do the trick.
Light your balcony with candles
The right lighting will spice up your cosy balcony when you're sitting out there in the evening. Candles are the perfect solution. They provide a vivid, flickering light, which makes for a cosy ambience. You could place lanterns on your balcony floor and tealights on the tables. This will provide different 'levels' of illumination on your balcony, putting the final touch to your balcony's cosiness.