Decorating a room and adding a sense of personal style, need not be expensive. With our 6 affordable decorating and styling tips, you can makeover your living room space on a budget. From practical storage solutions to bargain ideas to style your space. Read on for inspiration.
1. Alternatives to expensive designer furniture
Most of us experience a want for designer furniture. There is nothing wrong with that, but designer furniture is expensive and not very budget friendly. There are many popular chairs that can serve as a good alternative to designer furniture and this way you can feel like you have it all, for less than half the price. Therefore, it's a good idea to look for less expensive alternatives, for example when choosing new dining table chairs. Perhaps pick a more expensive table, if you're after a particular style. But then save on the chairs and even consider painting your chairs for a more unique look.
2. Get expressive with wall art
Artwork on the walls can be expensive, but you don't have to spend a fortune to give your walls a new look. An alternative to pricey decoration on the walls is to create a personal picture wall. Mix and match frames and wall art to create an inspired display, which can often look quite expensive. Stick to frames in black or white wood and pair with gold decoration for this look.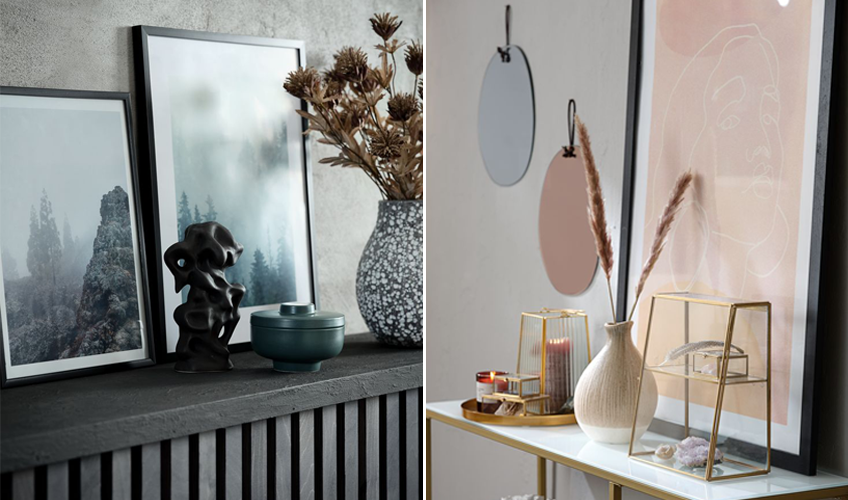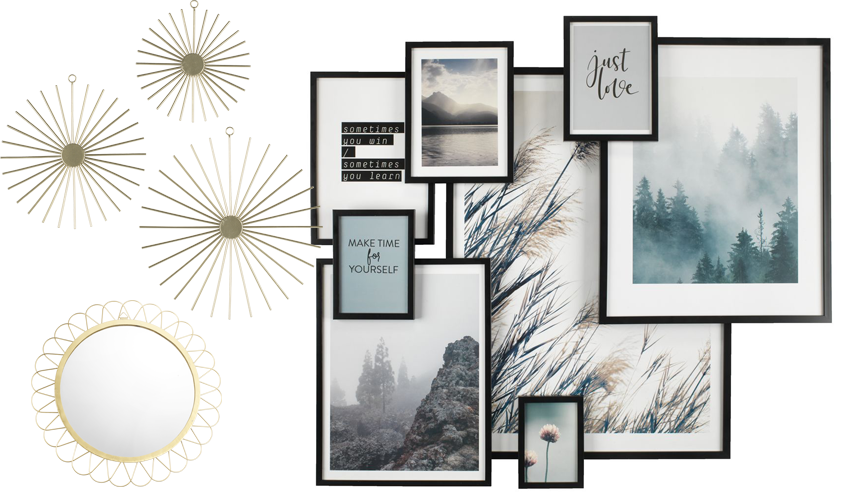 3. Change your cushions
If you don't think you can afford to invest in a new sofa, it's easy to update the look of your room with just the cushions. Decorative cushions are especially suitable for decorating on a budget as the colours and styles of the cushions can change depending on the season, therefore giving your living room a whole new look. With relatively small means you can follow the current trends while giving your home furnishings versatility and a twist with new cushions.
4. Decorate with mirrors
Decorating with mirrors is an unconventional and less expensive alternative to pricey artwork. This is because mirrors radiate elegance and make the room appear larger. You can also use mirrors to reflect the light in a room to make it seem brighter.
Your interior design doesn't have to be traditional, in fact you can use virtually anything as unconventional wall decorations instead of the classic pictures on a wall.
5. Make room for exclusivity
Another budget decorating idea, is to use faux furs throughout your living room. Furs exude exclusivity without necessarily costing a fortune. Put a faux fur rug on the floor or a faux fur cushion on a chair. A great DIY tip is to attach a faux fur seat cushion to an affordable stool for an expensive look.
6. Choose the right lighting
Lighting in the living room doesn't have to come from an expensive ceiling lamp. Many people make the mistake of not considering what kind of light they want their new lamp to provide before they buy it. Light shades, lamps and candles have a big influence on the mood of your living room, as they can really set the scene. The lighting elements of your room can also add to the decorative design without been too expensive.