In the living room you often need space for everything: sofas for the whole family to lounge on, a dining table for a lovely dinner on a Saturday evening, and shelves for books and storage. All these different features make special demands on the decoration of your living room. Here are 5 simple tips for what you need to bear in mind, and what you should avoid, when you decorate your living room.
1: Make sure you have direct access to your windows
A classic mistake is to place a sofa directly under a window or in front of a window section. Arranging a living room in this way not only makes it difficult to clean and water plants on the window ledge, but it also shuts out all the wonderful light. Let your living room breathe and move your sofa away from the window to let the light in.
2. Create air in between your living room
It's a good idea to separate the living room's various features, to create smaller sections. Allow plenty of floor space between the room's "departments", and arrange the space so that obstacles aren't created. A good way to do this is to use rugs to seperate the different sections and zones.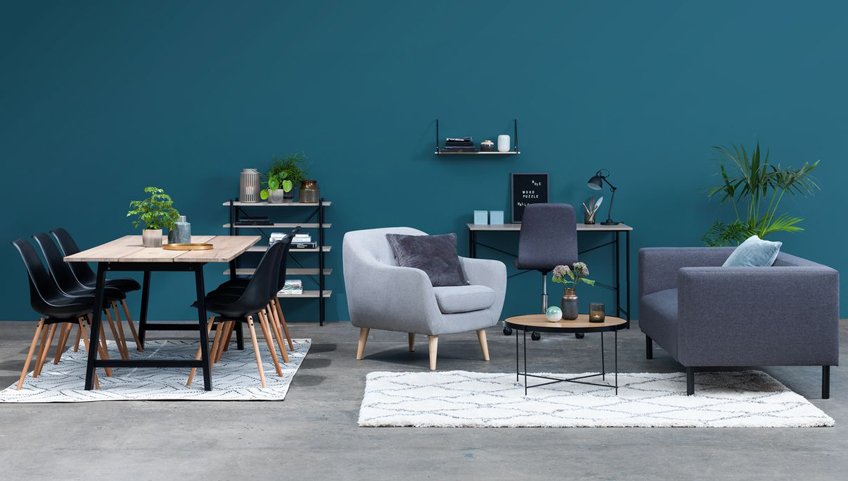 Also consider whether your favourite armchair might not look best with its very own section of the living room: e.g. in a corner, with a floor lamp behind it. If you fancy an extra place to sit at the coffee table, an alternative is to use a cute little pouffe.
3. Choose furniture that suits the size of your living room
It's hard to draw a limit when decorating a living room. Maybe you have plenty of room, so then there is no problem.  But if you only have a few square metres at your disposal you have to take this into account. Choose furniture that suits the size of the room, for example a large corner sofa works best in a large room. 
4. Avoid over-decorating
Be careful not to have too many things and effects in your living room. However, if you're the kind of person who loves to surround yourself with things that mean something to you, then go ahead and coordinate them, for example by placing them in a shelving unit or a glass cabinet with space around it. This will set everything off to an advantage.
5. Experiment
You know the scenario. You buy a new dining table and before you know it, it ends up exactly where the old one was. We humans are creatures of habit. Once we have positioned our furniture it often remains in the same place for years as if it is glued to the floor. But it might be a good idea to switch off your autopilot when decorating your living room. Give various ideas a try. Take pictures of them from various angles until you find the absolutely best solution.