The buyer's 3 favourite bed linen
The buyer's 3 favourite bed linen
Whether you prefer a romantic, modern or classic look in your bedroom, new bed linen is a fast and simple way to renew the visual expression. Kathrine Møller Vinther has been with JYSK for 6 years and she is our expert when it comes to bed linen trends, qualities and comfort. In this blog post she shares her favourites in the new assortment with us.
"In unpredictable times, we search for harmony, calmness and anything familiar" Kathrine says and continues: "that is why I want to focus on some bed linen that each in their own way is  a new take on a cosy, traditional design."
ABBIE for the comfy cat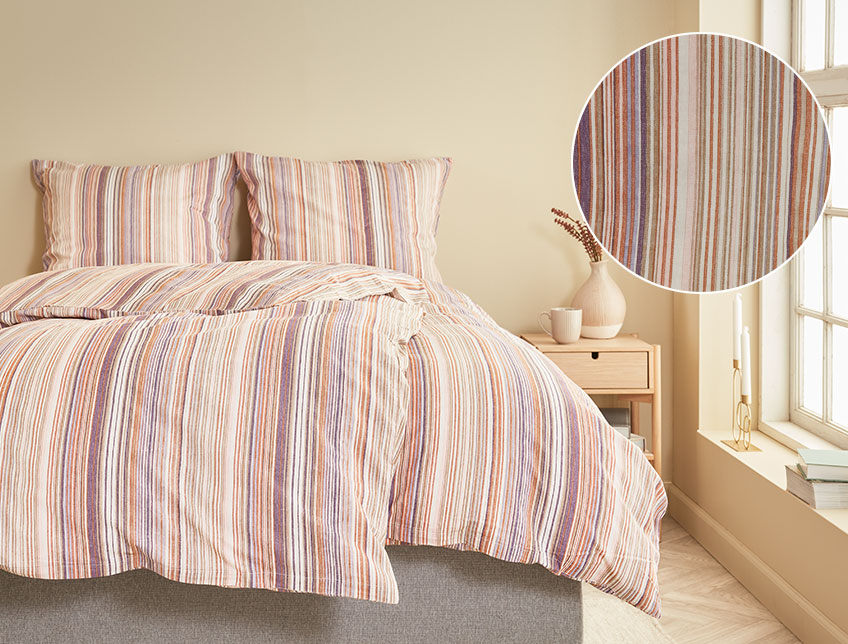 "Welcome to an updated version of the cool 70's," begins Kathrine with a smile. "This striped bedding takes me on a trip down memory lane, back to the relaxed, colourful, analogue decade, of tie-dye t-shirts and waiting by the phone."
The bed linen is 100 % cotton with a pattern that looks yarn-dyed but is in fact printed in warm colours like purple, orange and sand. If you like the design, there is a matching towel in our assortment.
Guide: Choose the right size bed sheets
ALICIA takes advance on summer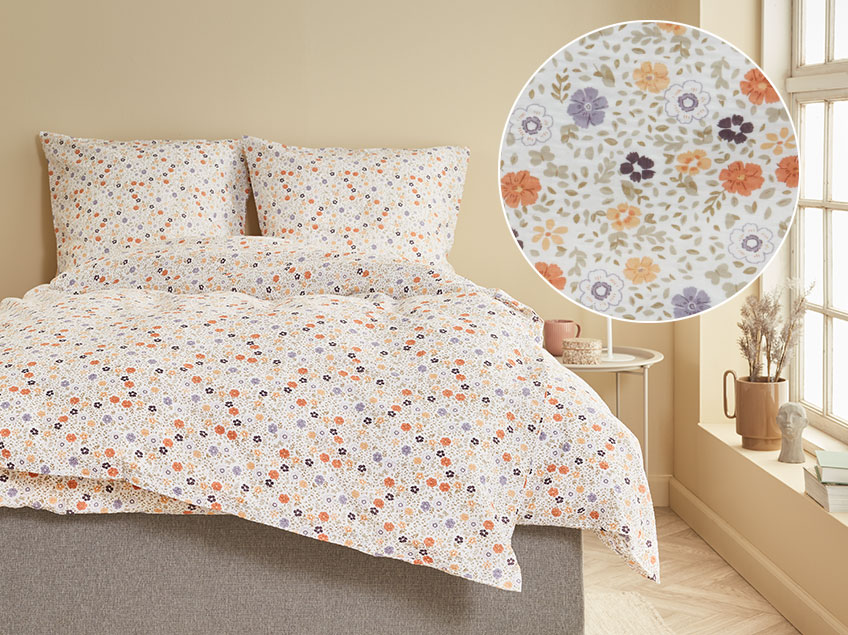 "Don't you just feel like summer is almost here?" asks Kathrine as we go on to the next duvet cover set.
"Again, you see a touch of the 70s, with the earthen tones and natural look. This season, seersucker is making its comeback, and ALICIA is a sweet example of how this well-known and beloved wrinkle effect contributes to a light feel."
ALICIA has small pretty flowers in orange and purple colours on a white background and the duvet cover set is iron free.
PAMPER YOURSELF WITH INGEBORG
"INGEBORG is bed linen in high-quality with an exclusive look and feel. The design is modern, yet classic with the small checkered print. The high-quality sateen weave gives it a super soft and pleasant hand feel and a shiny look," Kathrine begins.
"Pamper yourself and create a hotel-vibe at home with INGEBORG. The oxford frame underlines the classic look giving your bedroom an instant upgrade. It can fit in any bedroom and is available white, purple and blue," Kathrine finishes.
The new bed linen assortment is for sale online from January 4th 2022.