In this guide, you can learn how to make the right choice of ready-made curtain and blinds and read about the benefits of different types of window dressing.
Ready-made curtains: Versatile and easy to install
Ready-made curtains are available in several types of fabrics and colours. All you have to do is to choose which ones are right for your home and needs.
In a bedroom or a living room, black out curtains can be the right choice. They shut out both light and heat, so they can be very practical in the summertime.
On the other hand, light curtains let in light while creating privacy at the same time.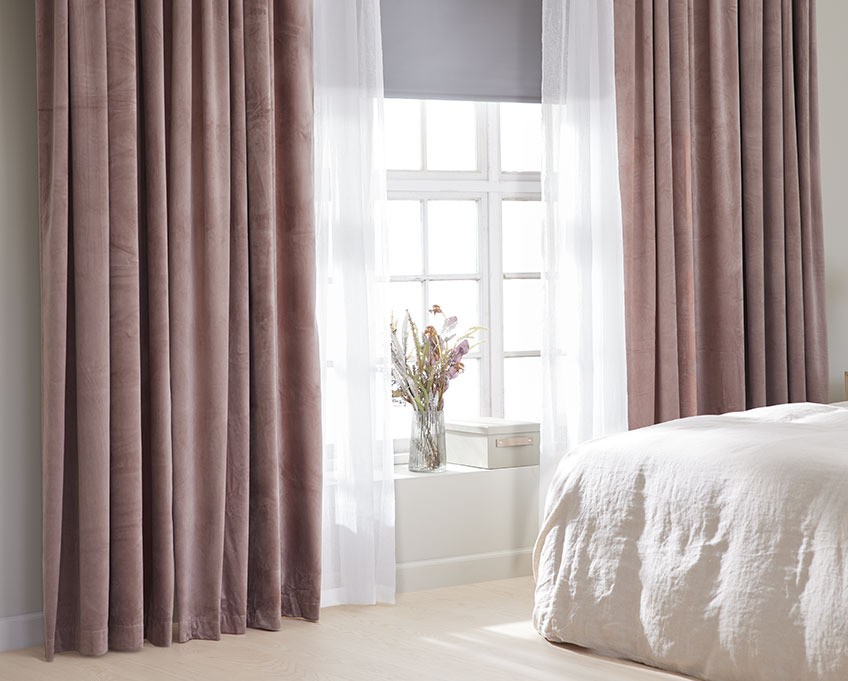 Ready-made curtains are easy to install. Before you buy them, make sure to measure the window so you are sure to get the right size.
You should choose curtains that combined match the width of your curtain pole. When it comes to length, you have to decide if you want the curtains to hang down to within 1½ cm of the windowsill or go all the way to the floor. In the latter case, you can even let them puddle slightly.
All ready-made curtains are easy to shorten – no sowing necessary. The curtains can be adjusted using an iron, a cloth and the included hemtape.
Curtain headings
Before you choose your new ready-made curtains, consider if they should go with a specific type of curtain pole, or simply what options for holding up the curtains that you prefer:  
Wrinkle band tape/curtain tape: A curtain with curtain tape is a very popular choice. It works well both in traditional, trendy and casual interior decors. This is one of the simplest options, especially suitable for light-weight curtains.
Pole pocket: Curtain hung this way have a simple, casual look and the solution is very simple:
A pole pocket/rod pocket is a sewn-in pocket at the top of a curtain that easily slips over the rod. When the curtain is closed, the rod is hardly visible.
Loops: A loop curtain has a contemporary look that works fabulously when you want to create a casual look in the room. However, loop curtains are not suitable for rooms where you want to shut out light. The pole goes through the loops, and light will shine between the loops and the curtain itself.
Eyelet headings: Eyelet curtains have metal eyelets spaced evenly across the top and are very easy to open and close. They hang in loose folds and add a contemporary finish to your decor.
Choose the right curtain pole
Again, make sure that the curtain pole or track matches the curtain heading. Once that is in place you can go on to find the right size. We recommend a curtain pole that is 20 % longer than your window is wide.
We also recommend that you place the curtain pole 6-8 cm above the window or in the ceiling.
If you like Tie backs, we recommend them to be at least 30 cm long and placed half of the way up from where the curtain ends.
Washing tips
Before you wash your curtains, make sure to consult the instructions. There are some advice that are good to know:
To minimize cotton curtains from shrinking, wash at lowest possible temperature
Hang curtains to drip-dry to prevent them from forming creases after washing. Remember to protect the floor from surplus water
You can help the curtains fold if you tie two or three ribbons around them while drying
Curtains out of polyester should be washed using fabric softener in order to prevent static electricity
Roller blinds: Flexible and ideal for the bedroom
Roller blinds are available in different colours. They can be shortened in width to fit your window. When it comes to length, chose some that can reach all the way to the windowsill.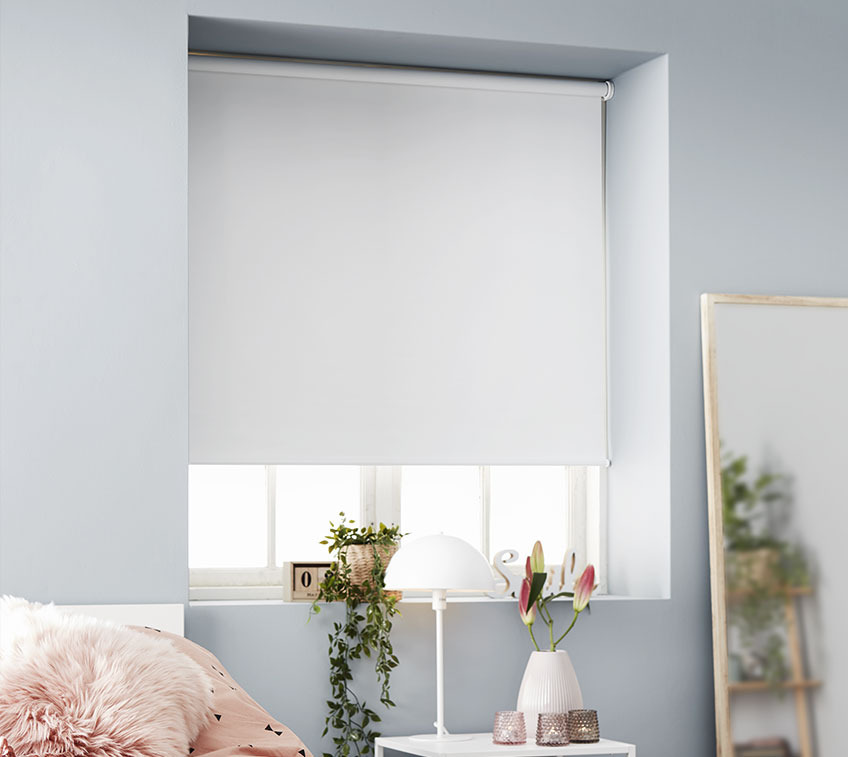 Black out roller blinds shut out both light and heat and can be ideal for the bedroom.
DUO roller blinds let you adjust the light very precisely, while at the same time ensuring privacy in your home. They consist of two layers of transparent and opaque striped fabric that move independently from each other.
Pleated blinds – stylish and flexible
Pleated blinds are a stylish choice, that are available in different colours. They can be shortened in width to fit your window.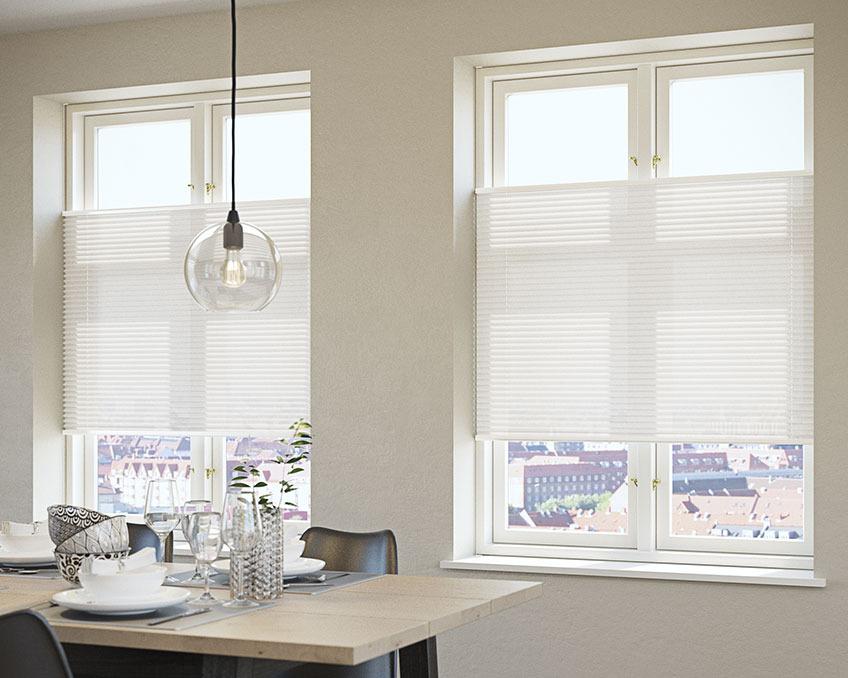 With Up and down pleated blinds you can create the perfect balance between light and privacy in your home. You can lower and rise the pleated blinds from both top and bottom, to fulfill your needs very precisely.
Vertical blinds – perfect for long windows
Vertical blinds have a very elegant look, especially on long windows and on large window areas. They naturally make the room appear bigger.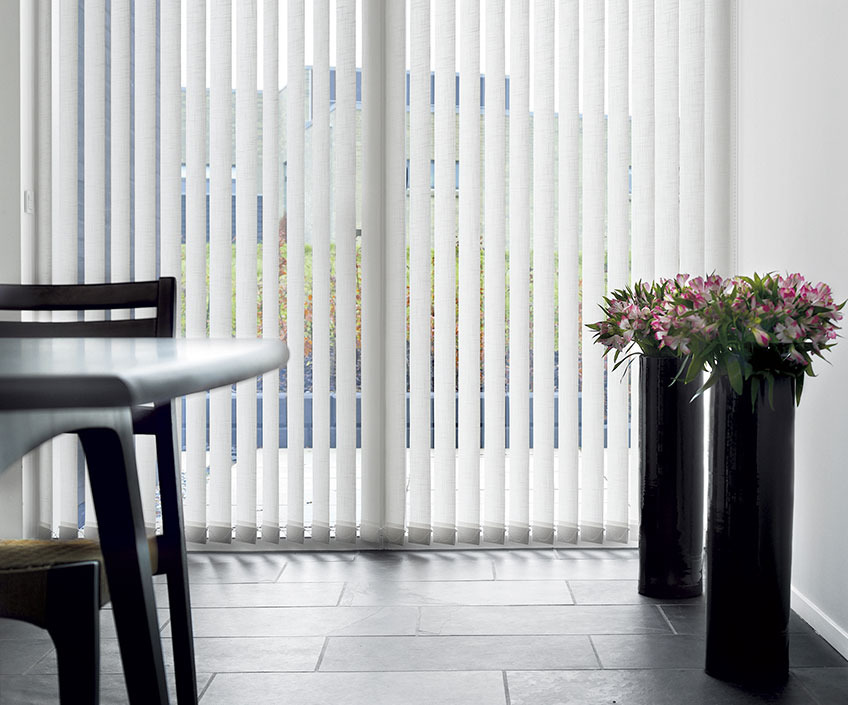 Vertical blinds let you control light and shade very effectively. They can be shortened both in width and length and require a minimum of maintenance. In case of stains, you can wash them in water.
Venetian blinds – the classic choice
Venetian blinds are the classic choice for any room. They can be shortened in width to fit your window. When it comes to length, chose some that can reach all the way to the windowsill.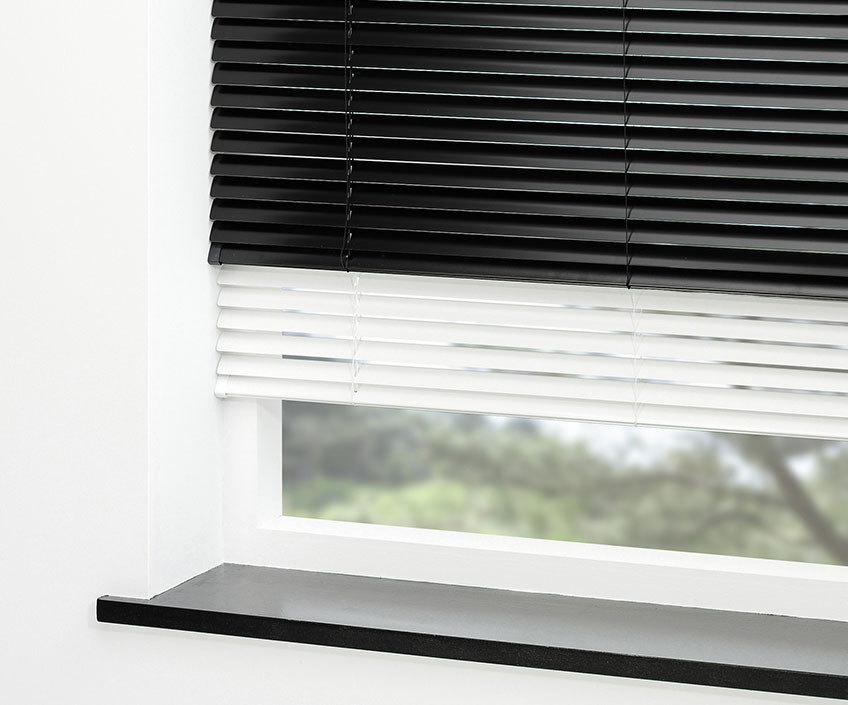 Venetian blinds give you total control over how much light enters the room, and let you control your privacy at the same time.