We all know the feeling of a new, soft towel. But what should you be aware of when you shop for new towels?
The size of the towel
Towels come in many sizes and the size can even vary from store to store. You can of course use different sizes for whatever you like, but here is some guidance on what you normally use different sizes for: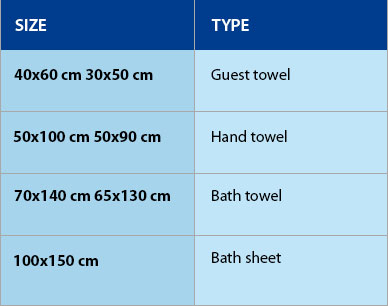 The weight of the towel
The weight says something about the quality. The heavier the towel is, the stronger it is and the better it absorbs. The towel you choose depends on what you plan on using it for and how long you want it to last. For example, a guest towel to dry hands with might not need to be as good quality as the one you use after a bath. At JYSK you will find towels from 340-550 g/m2.
The quality
The quality of the towel varies of course and it can be hard to tell if you are paying for the quality or the brand. At JYSK we have divided our towels into four categories: Everyday low price, Basic, Plus and Gold. The four ranges make it easy to find exactly which quality you require.