Do you find it difficult to furnish and decorate a small dining room? It can be a challenge to fit a table and chairs and other furniture essentials into a small space but there are easy and practical solutions. Read on and get useful tips on how to furnish and style a small dining room.
Space saving table and chairs
The first thing that comes to mind when styling your dining room, is your dining table and chairs. The main focal point and most likely the pieces of dining furniture you will use the most. But how can you get a dining setting that also doesn't take up too much space?
First think about where you will place your dining table. It may be a good idea to place it against a wall, rather than away from the wall, in order to save space. You may lose a side of the table but think about how many people will regularly sit round your table. If just 2 or 3, then you will not miss the other side of your table.

A further practical solution is to opt for an extendable table. This can come in 3 different forms:
- Extendable table with an extension leaf
- Drop leaf table (where the leaf slides up from the middle of the table)
- Or, a flip top table
All three provide space saving solutions for your dining setting.
Save space with dining chairs and benches
Another solution to save space is to use a dining bench rather than 2 or 3 dining chairs. The bench may take up the same room as the dining chairs, but you could opt for a dining bench with storage, therefore providing two uses of your bench.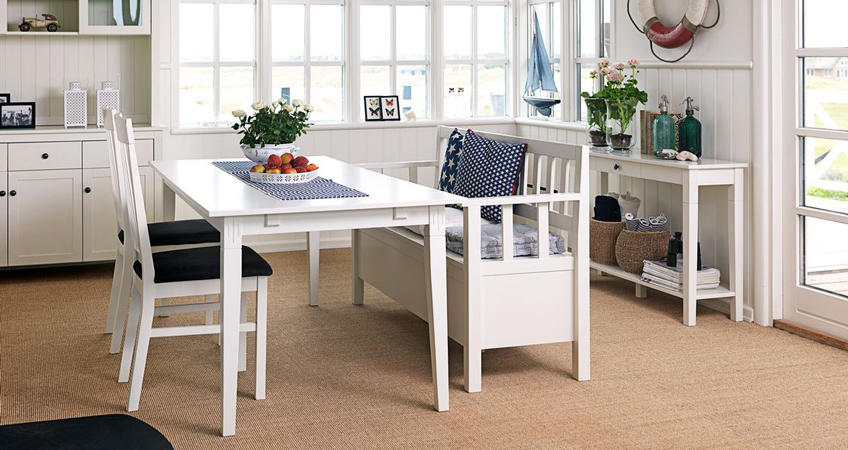 Also, consider using a spare chair as a decorative piece. A chair can be a stylish addition to your dining room as an end table, or even a coffee table if right next to your sofa. The chair is then easily accessible if you have another guest round for dinner, if you need another seat in front of the TV.
Small dining room and living room ideas
If your dining room and living room are combined, there are still plenty of solutions to tailor your small space. The best way to avoid clutter and mess is to have ample storage. A great way of doing this is to pick a TV stand with drawers or cupboards in order to hide away any mess from TV wires, remotes and DVDs.

If you have a TV stand without any drawers or cupboards then use baskets to keep things looking as neat as possible. Opt for baskets or boxes which are not opaque, and match them to your living and dining room design.
Easy solutions to make a room seem bigger
Apart from picking the right furniture, you can also opt for the classic tricks of making a room seem bigger than it actually is. Consider hanging a large mirror above your dining table in order to bring in more light and to make the space seem much larger than first believed.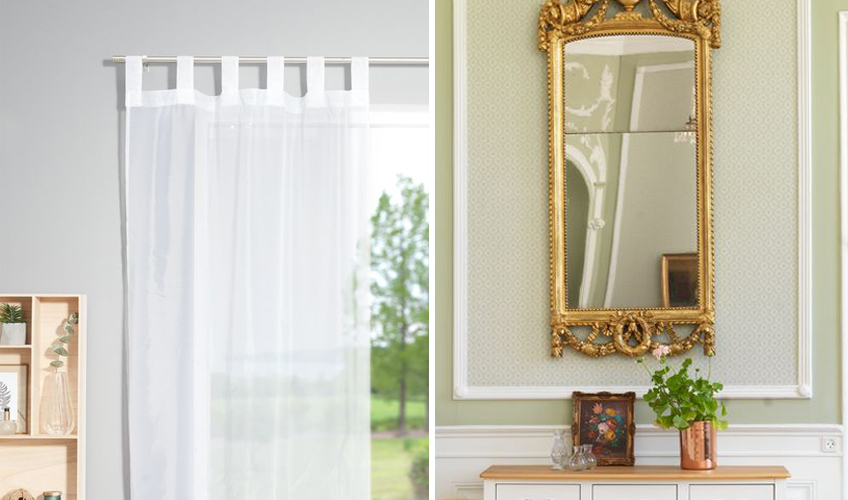 Pick light or sheer curtains to let in lots of light. A lighter room can seem much bigger than a room with darker and harsher colours. Also think about colours when picking your furniture. Too much white may seem clinical but if you opt for lighter furniture (to make the space seem bigger), then pick darker accessories such as candles and cushions to make the space feel cosy.
Do you have any small dining room ideas? Feel free to share in the comment box below.