Christmas is a time for light, and even this year, outdoor Christmas lighting is a charming tradition to look forward to on those dark fall and winter evenings. But before you decorate your garden, driveway or balcony with outdoor lights, there are a few things you should bear in mind. For example, are you making sure that your outdoor Christmas lighting takes your neighbours into account? Are you sure that your Christmas lighting has been set up correctly and that it is energy-saving?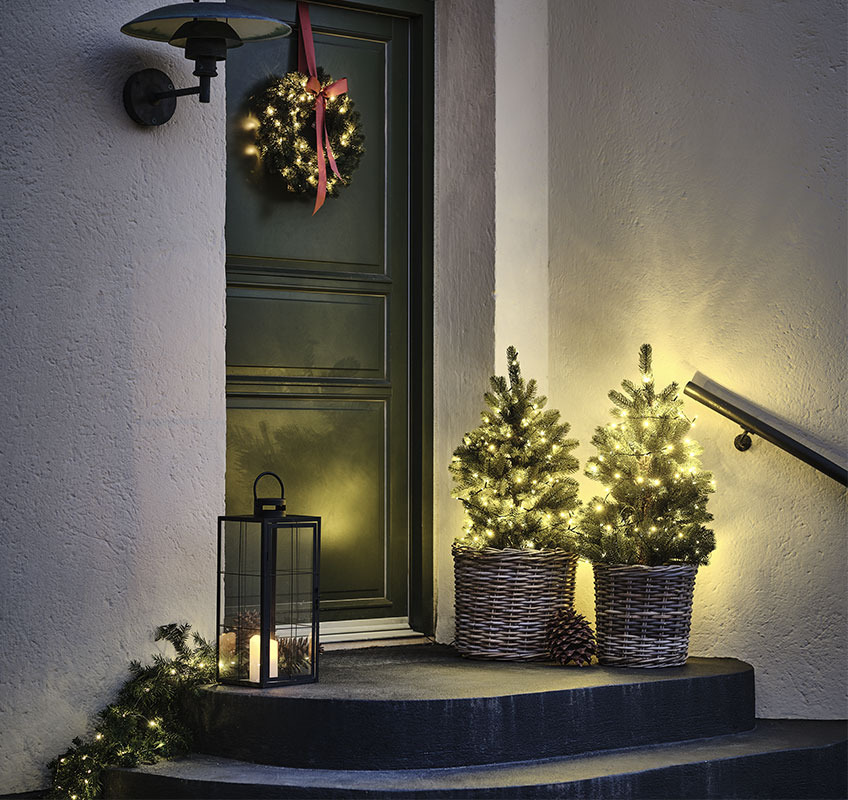 We have compiled 9 excellent tips on how to achieve pretty and safe Christmas lighting – without your electric bill breaking the bank or your neighbour wanting to pull out the plug! See the full list at the bottom.
Outdoor lighting provides warmth at a cold time
String lights and net lights are some of the easiest ways of creating outdoor Christmas charm. It is a practical way to decorate because string lights and net lights can be wrapped around most things. This makes them ideal for balconies, shrubs, trees and even flagpoles.

Great outdoor Christmas lighting does not necessarily require a garden. If you have a balcony or a small outdoor area, you can easily hang string lights on the balcony's railings or put up a small, illuminated tree.
Another way of decorating an outdoor area is to use charming lanterns. They look pretty either at the front door or on a balcony. Remember that your lanterns need to stand on a safe surface and preferably with a bit of shelter, so the candle does not get blown out.
Use only lights suitable for outdoors
When putting up outdoor Christmas lighting, it is important to use lights that are intended for outdoor use. Indoor lights do not belong outdoors. Moisture can easily penetrate the string lights and cause short-circuiting. Outdoor Christmas lighting is more resilient quality-wise and is better at withstanding damp, frost, and strong wind.
If a string light is suitable for outdoor use, this will be clearly stated on the light's packaging. You should also choose a light garland with a CE marking. This means that it complies with statutory safety requirements.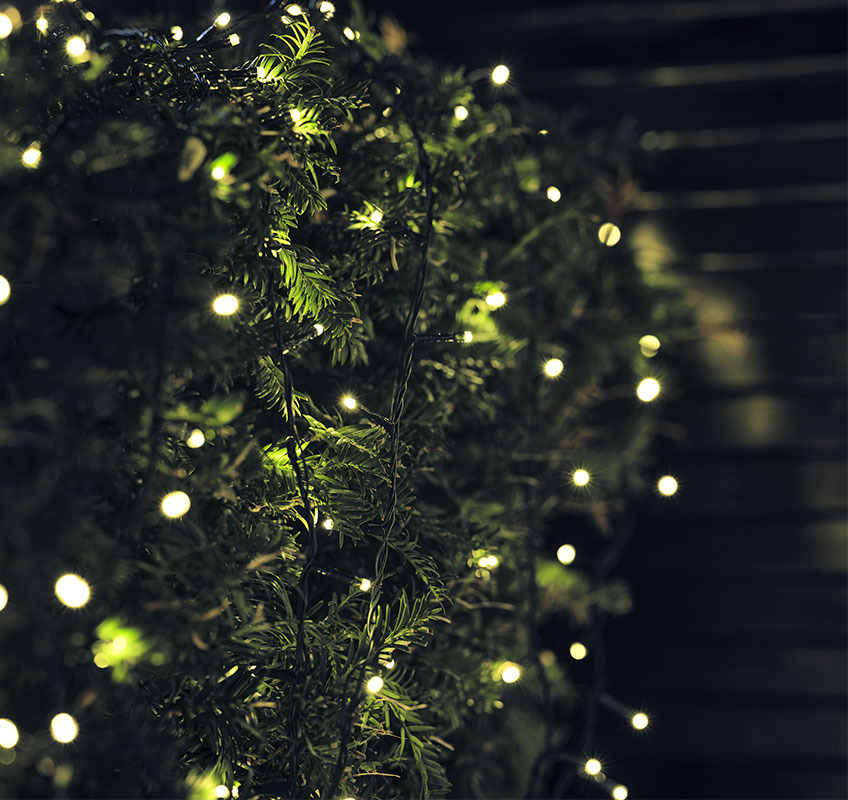 Save energy with LED Christmas lights
Outdoor lights bring a bit of joy in the dark fall and winter months, and you can light up your home with a small use of electricity. All outdoor lights in JYSK's assortment are made with LED lights. An LED string light has a service life of about 50,000 hours of light and uses up to 90% less power. Combining LED lights with a timer function ensures that your electricity bill for outdoor Christmas lights is kept to a minimum.
Another advantage of outdoor Christmas lighting with an on/off feature is that you can reduce your energy consumption during the day when the lighting is not visible anyway.
You should be aware that there are different shades of white in LED lighting: for example, warm yellowish white and cold bluish white. So, it is a good idea to check that your outdoor lights have the colour you want. The easiest way to ensure this is to see the lights switched on before choosing your Christmas lighting.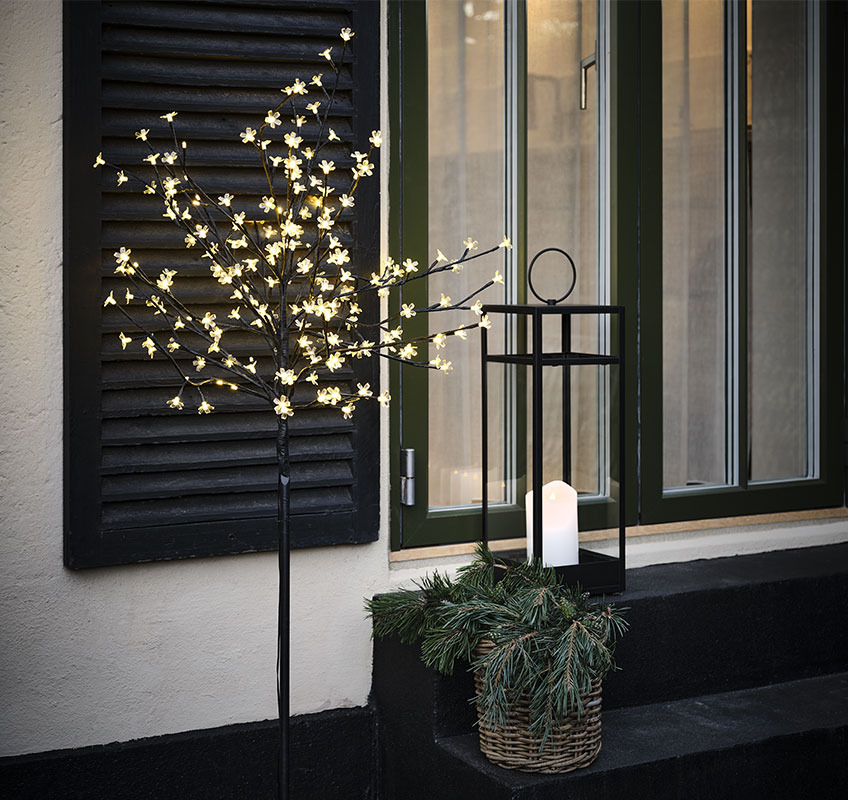 Be mindful - turn off your Christmas lights
Outdoor Christmas lighting is intended to create a charming Christmas ambience. To preserve Christmas peace and cosiness, it is important to consider the location of your Christmas lights, so the lighting does not bother your neighbour. Good manners dictate that your Christmas lights do not shine directly into your neighbour's living room or bedroom.
If you use string lights with a timer feature, your Christmas lights will turn on and off automatically. That means you guarantee that the lights are always switched off at the desired times, and your neighbours will not be disturbed by light during the night.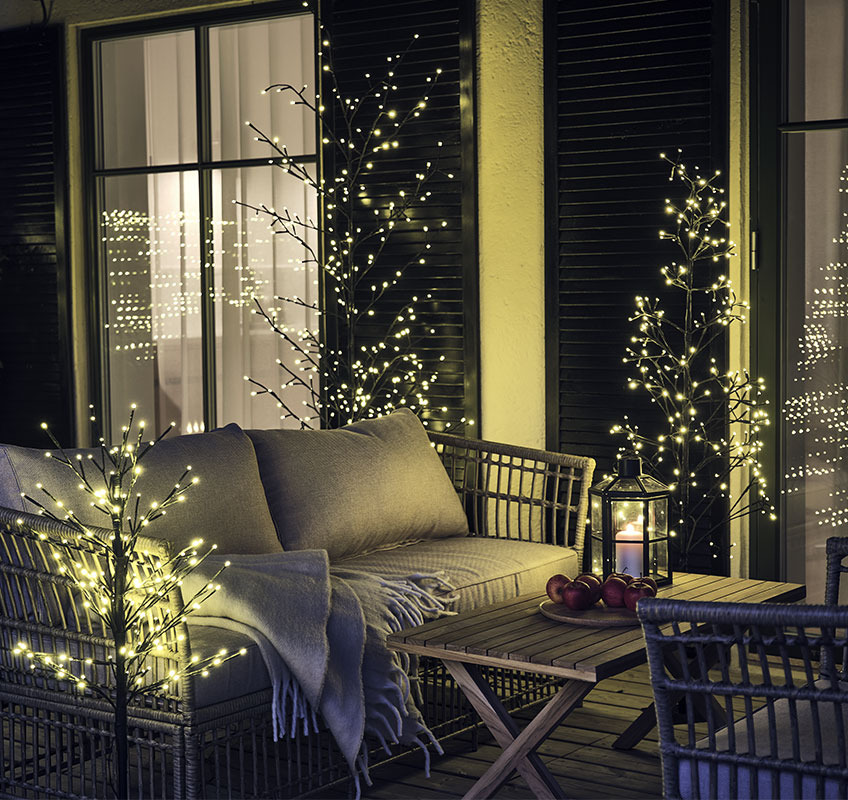 The 9 outdoor Christmas lighting tips
If you follow the advice below, you will be well and truly equipped to set up this year's outdoor Christmas lighting:
Save on your electricity bill by decorating with LED Christmas lights and using the timer function, so the light is not switched on unnecessarily.
Always check whether the string light is intended for outdoor use and is CE-marked.
Before buying outdoor lights, check that the colour is the shade you want.
A 3-pin earth plug is safer for outdoor lighting than a regular plug.
Check that the HFI/HPFI switch works for your outdoor lighting before you turn the power on. That way, you will avoid getting a shock when setting up your Christmas lights.
If you use an extension cord or a transformer for your outdoor Christmas lights, the connections must be tightly sealed for the device to be suitable for outdoor use.
Avoid getting the cable caught in door or window openings, otherwise, you run the risk of getting nicks in the cable, which could result in shock or cause a fire.
If you are connecting your Christmas lights to an outdoor socket, it must be installed by a qualified installer, because it is illegal to install outdoor electrical sockets yourself.
When you have taken down your outdoor Christmas lights, you should store the Christmas lights in a dry place – preferably in the light garland's original packaging for optimum protection.