Your shower curtain easily gets exposed to a lot of water, soap suds and the likes of shampoo and conditioner. It therefore needs regular cleaning. Read on for tips and advice on how to effectively clean your shower curtain.
You don't need loads of chemicals for cleaning and washing shower curtains, you can easily get a clean shower curtain with a few simple products. Whether washing or de-calcifying your shower curtain, follow the instructions in this blog post to achieve a lovely, clean result.
How to wash shower curtains
The simplest way of washing a shower curtain is in a washing machine at 40º. It is a good idea to wash shower curtains together with a couple of towels. This helps get the dirt out and provides you with soft and hygienic towels. But make sure you follow the washing instructions and hang the shower curtain to dry immediately. It is important to hang it in a place with good ventilation.
Washing shower curtains at 40º removes stains. But if you have not washed your shower curtain for some time, this will probably not be sufficient.
If you have not washed your shower curtain for some time, first of all you need to wash it with half the normal dosage of washing powder. Then add one decilitre of acetic acid to the wash. You should then place the shower curtain in a bowl with eight litres of hot water, before adding 250 ml of regular kitchen salt. Make sure the salt dissolves and let the shower curtain soak for four hours. When the four hours are up, hang the shower curtain to dry immediately.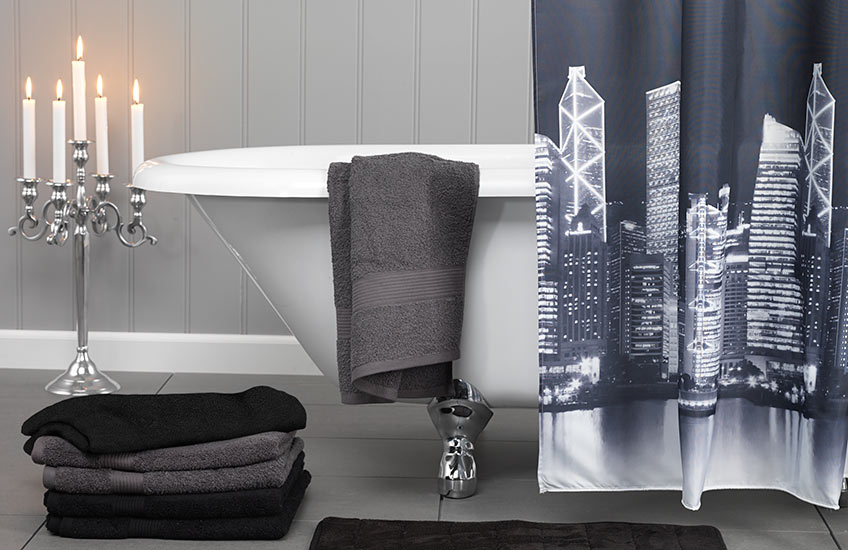 How often should you wash your shower curtains?
You should wash a shower curtain regularly. That way, you will ward off germs and obnoxious smells. You should wash your shower curtain at least once every three months. Obnoxious smells may be caused by the fact that your shower curtain is slightly too long. The resultant damp can lead to a fusty odour. That is why it is important to take measurements prior to buying a new shower curtain in order to get the right length. If your shower curtain is too long, it is also more likely to acquire yellow marks.
De-calcifying a shower curtain
Everyone wants a clean and tidy bathroom, but many people find that their shower curtains acquire yellow marks. Yellow marks are the result of high iron content in the water. This is also known as ochre. The marks are by no means harmful, but they do not look particularly appealing. That is why you need to de-calcify a shower curtain.
The most effective method for de-calcifying a shower curtain is to fill a bowl with eight litres of water. Then add about two deciliters of bleach for white shower curtains and vinegar for coloured shower curtains. Mix it in well and place the shower curtain in the bowl, making sure the water covers it. Make sure you wear rubber gloves. It might also be a good idea to use a stone to keep the shower curtain immersed in the water.;
Leave the shower curtain to soak for 24 hours, before washing it at 40º. As soon as the wash is finished, hang the shower curtain to dry. Voilà! A de-calcified and clean shower curtain that looks as good as new.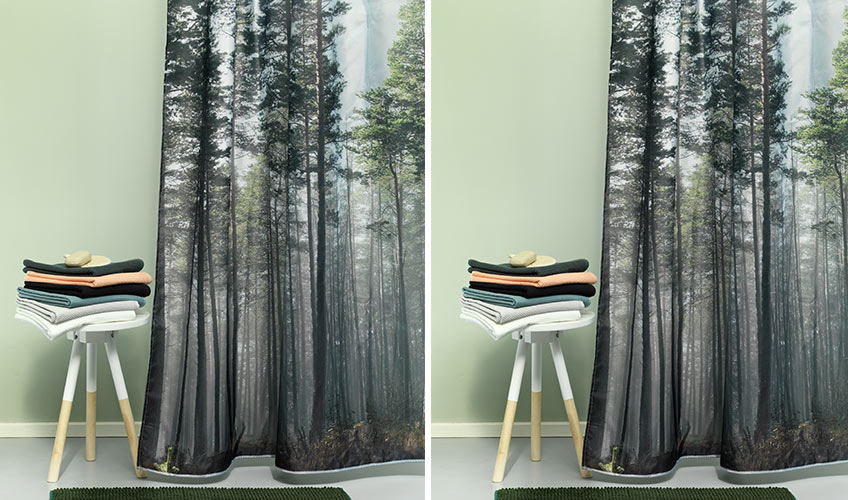 Cleaning shower curtains without a washing machine<
If your shower curtain is not machine-washable or you don't have a washing machine, you can revitalise a dirty shower curtain by using scouring cream. Apply the cream and scrub heavy stains with a sponge. Leave the cream to sit for 15 minutes, before rinsing the shower curtain with lukewarm water. Again, make sure you wear rubber gloves and follow the instructions on the label.
Tips to bear in mind
When drying a shower curtain, remember to open the windows and switch on the ventilation, if you do not have the option of drying it outside. Otherwise there is a risk of the moisture forming mould or mildew. If that happens, you will have to clean the shower curtain all over again.