Our modern lifestyle can involve sitting in bed actively using smart phones, tablets and computers, which can have an impact on our body. This ever-increasing activity means we need to change our focus and choose suitable pillows to help protect our bodies.
"We can't avoid using tablets, which have become a vital part of our everyday lives, but we should give our children and young people the very best conditions for work and rest by using devices with the right pillows and ergonomic instruction." Laurence Muller, Category Manager for Duvets and Pillows at JYSK.
Take a look at some useful information about choosing the right suitable pillows for your bed to help protect your neck, shoulders and arms whilst sitting in bed with an electronic device.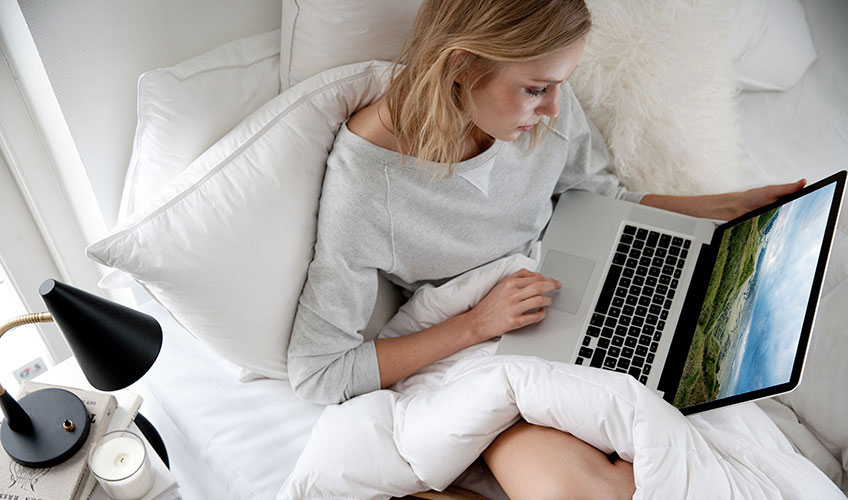 Remember that your pillows need to support the particular activity
Make sure you choose good pillows that support the activity in question. Your pillow plays a vital role in terms of your head, neck, shoulders and back. Sitting and working in bed, relaxing or simply sleeping are all different:
"Different types of pillows are required for sleeping, working and relaxing." Laurence Muller, Category Manager for Duvets and Pillows at JYSK
If you need to sit in bed with your smart phone or tablet, you need a relatively large pillow with support so that you don't collapse when sitting. The pillow you sleep on at night should be a decent pillow that embraces your neck, helps you relax and stops you getting tense and ending up with a headache.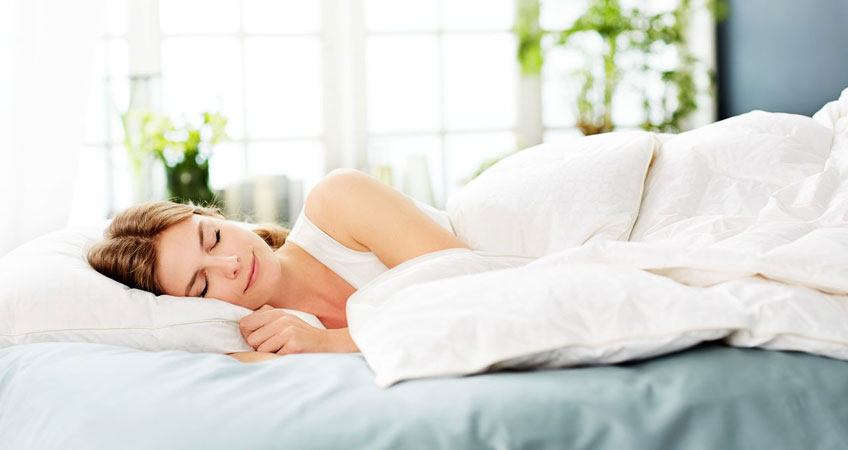 Think carefully about your sitting position to avoid wrong neck posture
It's not only the pillow that is important, you also need to consider the position you're sitting in. When you're sitting in bed with your smart phone or tablet you will often find that your neck is hunched. This can have long-term consequences. A bent neck can lead to damage and pain: not only in your neck, but also in your arms, shoulders and back.
If your neck is positioned wrongly, it can also lead to headache and diminished concentration and, in the worst case scenario a bent neck can increase the secretion of stress hormones.
School children are a particularly vulnerable group
Children of school age are a particularly vulnerable group in this respect. After a long day at school, most children lie in bed and relax, checking social media, playing games or doing their homework. All these activities are conducted on their iPads/tablets, smart phones or computers:
"There should be good, solid support of the entire back, shoulders, neck and head so that children and young people can relax their necks without having to hold their heads straight when looking at a screen." Laurence Muller, Category Manager for Duvets and Pillows at JYSK.
Children need "good working conditions", even when sitting in bed doing their homework. The use of more mobile technology has changed children's behaviour: they no longer merely sleep or relax in bed. There are a number of things that play a role today, and which we need to think about if we are to provide children with the best working conditions. Given that children have changed their behaviour, we need to take certain things into account.
"Whereas once the emphasis was on a decent office chair and the right desk for children, now we really need to choose the appropriate pillows for this or that activity in bed." Laurence Muller, Category Manager for Duvets and Pillows at JYSK.
It is important to emphasise that, even though you start giving more thought to choosing pillows to match a particular activity in bed, an active lifestyle is still vital, because it also helps to strengthen your shoulders, arms, necks and back.