When dinner is over and it's a beautiful, warm evening, why go inside if you feel like hanging out some more on the patio? The reason could be that a traditional set of patio furniture, can perhaps be a little uncomfortable to lounge around on? If you have a lot of free outdoor space, then look no further for comfortable garden lounge furniture ideas.

There are different types of lounge sets that all add something different to your outdoor space. You can choose between different materials like rattan, polyrattan, wood and iron, all of which have their pros and cons. Before you buy, think about what fits in your garden and your personal style and taste and have a look at our examples of great lounge sets. You are sure to find a favourite.
Lounge sets in rattan and polyrattan
Rattan is available in both a natural and a synthetic version. It comes in different colours and can add an airy look to your patio. Have a look at these two different looks in the same setting. Think about the effect that the choice of colours and the composition has on the overall visual expression. Which one do you prefer? 

There are many more stylish lounge sets to choose from, each with a distinct look and comfort. Our FALKENBERG range is an elegant choice for any garden. It brings style and quality that can't be match on price point. 
Metal and wood garden lounge furniture
Choosing garden furniture with a mix of wood and metal is a contemporary option that can create a modern and boho vibe in any outdoor space. Our VALLESTRUP garden lounge chairs look so inviting to sit back, relax and catch the sun rays to top up your tan. You might also enjoy these smaller and super light lounge chairs full of reminiscences of the 1950's furniture style. Accessorise with a small table, a faux lambskin, a lantern and sip your cocktail in style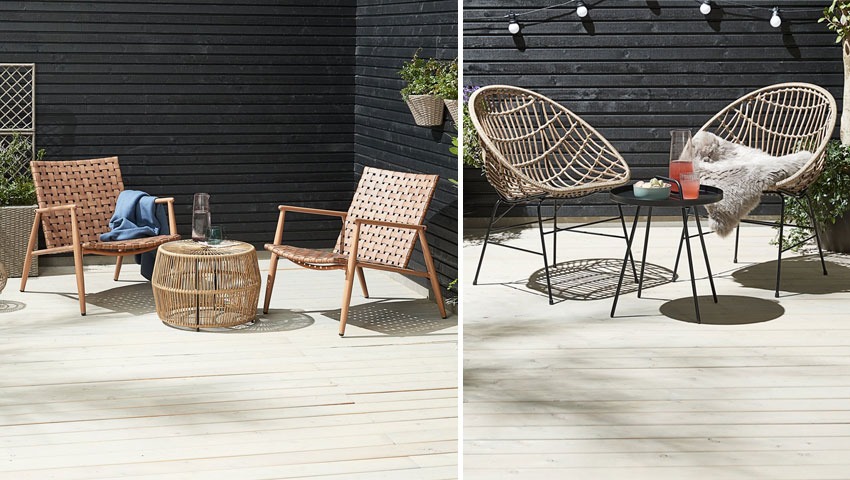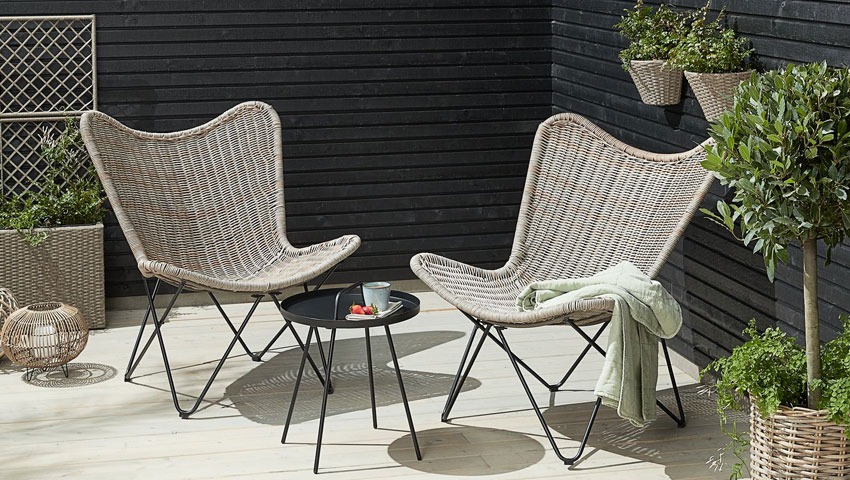 Make yourself at home in your outdoor spaces
When your outdoor space has had it's furniture makeover and you just want to kick up your feet, don't forget the icing on the cake: The accessories that really add an atmosphere to your favourite outdoor space. Delicate lanterns, rustic rugs, stylish planters, soft cushions, and warm throws will transform an ordinary, but comfy patio into a unique spot full of personality.