In many homes there are more shoes than storage possibilities. Even if your home is full of your own, or your family's shoes, there is always a shoe storage solution to fit your needs.
Store your shoes practically in the hallway
There are numerous different options when it comes to storing shoes in your hallway. No matter what size your hallway is, you can find suitable hallway furniture with shoe storage to fit the space. If you have a small hallway, or if you wish to hide your shoes away, you can choose a shoe cabinet with doors that tilt outwards. It creates a nice and minimalistic look without compromising too much space, and at the same time it is practical to store your shoes in.
You can also pick a piece of furniture with several functions. A hallway bench, for example, is a great furniture piece as it allows you to sit down whilst putting your shoes on, but it also practical to store your shoes in. 
Store your shoes on the wall
A good shoe storage solution in many homes is to keep the shoes on the walls. Often we have a lot of unused space on our walls, therefore it is a great idea to make practical and decorative use of the space. Consider putting a pair of nice shoes on a shelf or even using shower rails as shelves - use two rails for each row of shoes. For flat shoes, put the shower rails on the same level and for high-heeled shoes make the back shower rain a little higher.
Storing shoes in your wardrobe
If you want to hide away your shoes, then an easy solution is to store your shoes in your wardrobe. If you have already mastered your wardrobe design, then storing your shoes won't be an issue.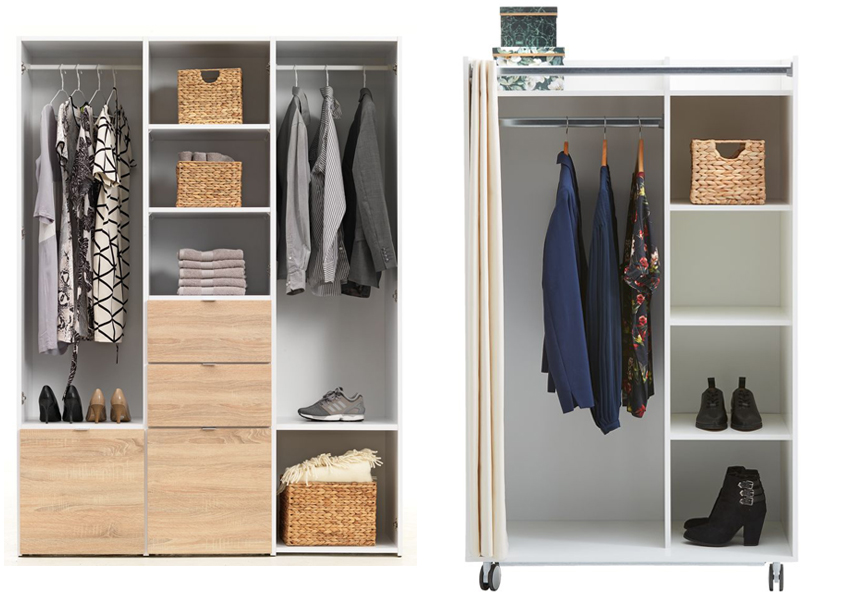 Storing shoes in a small home
If you live in a small home and have many shoes, you need a storage solution that doesn't take up too much space. So go through your home and look for places where you have some extra space. Maybe you could store yours shoes in a few storage boxes under your bed or couch?
Or maybe you have unused space more high up? If you have high ceilings in your hallway, you can put up a few shelves just beneath the ceiling for shoe storage. Put your shoes directly on the shelves or get some nice baskets or boxes for your shoes. If you are feeling creative, you can put nice pictures of your shoes on the boxes. It looks good and provides an overview.
Alternative ideas for shoe storage
Sometimes it is a good idea to shake things up a bit when you are short of good ideas. Don't think too much about how people normally store their shoes, but instead think of what makes sense to you. Maybe you can find space for shoe storage in a more alternative place. What about having shoes in a pouffe with storage room? That way you also have an extra seat in your home. You can also choose to store your shoes in a coffee table with storage space. The possibilities are endless, and only the imagination sets the limit! Comment if you have anymore shoe storage solutions and ideas.