If you're after a new look in your bathroom, it need not be expensive. With a few simple tips and makeover ideas, you can change the whole look of your bathroom space. Read on for advice and budget makeover ideas.
Budget bathroom makeover ideas
Freshen up your old bathroom with stylish accessories, as even the small changes can make a huge impact. Changing the likes of your shower curtains, towels and bath mats can really create a whole new look. Think different designs and colours to totally refresh the space.
Small details make a huge difference
Even the tiniest detail matters. Small bathroom decor such as a toothbrush holder, soap dispenser, pedal bin or a fresh toilet brush are a good place to start when doing a quick makeover. Something as small as new hooks for towels can make a world of difference. A boring bathroom mirror is another easy item to replace. A new mirror can really give the bathroom a lovely boost.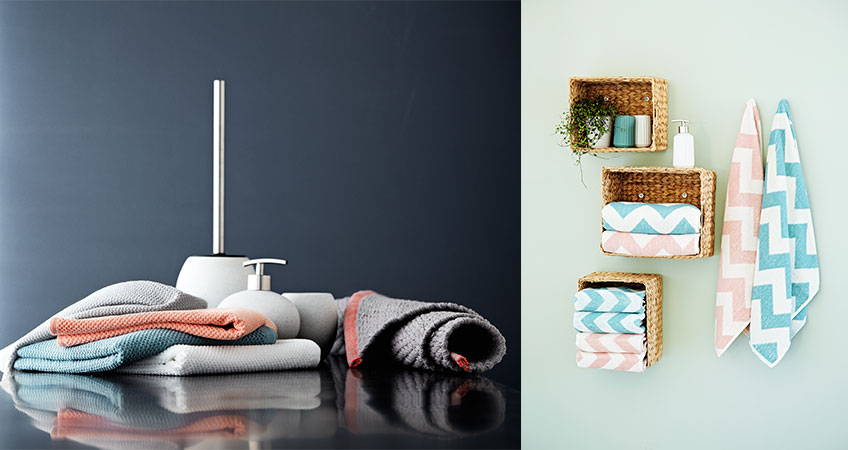 Contrasting colours
Go for contrasts in your colour choice when redesigning your bathroom. If you have a white bathroom, create contrasts by choosing dark coloured bath towels. The same applies if you are the proud owner of an older bathroom in dark colours. In this context, brightly coloured bathroom accessories compliment the dark tiles well.
Perk up an 80s bathroom
Many homes still contain remnants from the era when brown, blue and green dominated bathroom fashion. These bathrooms are certainly in need of a bathroom makeover. Luckily, mosaics are "in" again, and a retro look can be quite charming. You can invest old green tiles with new life by combining them with the right bathroom decor.
Transform your bathroom into a cosy room by using scented candles and hanging graphic images on the wall. A stylish laundry basket can also help the bathroom makeover and add a modern touch. The contrast between new and old makes a unique and personal impact on the design. Furthermore, add some some drawers, a cabinet or some baskets to help organise the sapce.
Make sure your towels are soft
Fresh towels are one of the easiest ways of doing a bathroom makeover. Go for good quality and let soft towels provide a cosy feel. Keep your new towels feeling extra new with our washing guidelines and learn how to keep your towels wonderfully soft.