Get practical design and storage ideas for a small bathroom. From using the right towel rails to great shelving options. Read on for inspiration.
1. Consider your storage needs
When decorating a small bathroom, you should start by firstly thinking about what you do and don't need to store in your bathroom. With space at a premium, you should make sure that you don't have unnecessary items lying around and taking up useful space.
Start by checking out what things you should not store in your bathroom. For instance, because of the damp air and changing temperatures, you should not store perfume, makeup and nail varnish in a bathroom.
2. Go for a simple style
Decorating small bathrooms in bright shades of one or two consistent colours is advisable. Choosing the same shades for towels, bathroom accessories and the shower curtain will create a pleasant, tranquil look in your bathroom. Bright colours also help make a room seem larger and prevent the room from feeling small and cramped.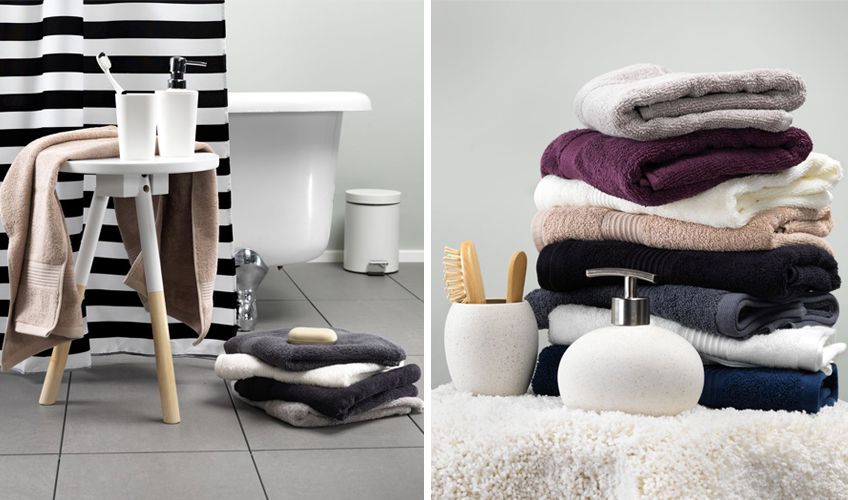 3. Make use of your wall space
When decorating small bathrooms, it's a good idea to utilise the walls and free up the limited floor space. Hang shelves, baskets or fit hooks on the wall so that you can hang the likes towels and dressing gowns. Baskets and shelves on the walls add a floating look to the design of a small bathroom, therefore making the bathroom feel light and spacious.
Tip: If the wall space behind the toilet is available, it might be a good idea to hang one or more shelves above the toilet, therefore transforming wasted space into valuable storage space.
4. Combine doors and drawers with open storage
Doors and drawers are great for concealing things. They prevent a small bathroom from looking over-packed. It's a good idea to complement closed storage cabinets with open shelves, so that you can showcase attractive accessories. Open storage can give your room a lighter look and a visual boost.
5. Hang towels on a hat shelf
Hat shelves are not only for your wardrobe or your hallway. The coat hooks on a hat shelf can be used for hanging towels on. Beautifully folded towels on a shelf can look very neat and can give a cosy feel to your bathroom.
6. Keep the space neat and tidy
Even the most unique and attractive small bathrooms can get ruined by mess. So, when decorating a small bathroom, you should take into account just how good you are at keeping a sense of order and structure in your room.
Open storage is more demanding than storage in closed spaces. If you do not keep the things you store away looking neat and tidy, then your bathroom can soon come across as cluttered rather than spacious.