A stylish, vintage feel and a classic charm - that is what characterizes the UGILT collection of garden furniture. It consists of a lounge sofa, a lounge chair, a double sunbed, a lounge table, a trolley, a bench, and a planter box. They all have a powder-coated frame in galvanized steel, complemented by deep brown acacia wood elements and details. Sunbed, lounge chair and lounge sofa all have luxurious thick cushions with durable structure-woven cover.
Let's take a closer look at the items in the UGILT collection and their customer reviews* (not all products have been in our assortment long enough to receive any reviews).
UGILT lounge table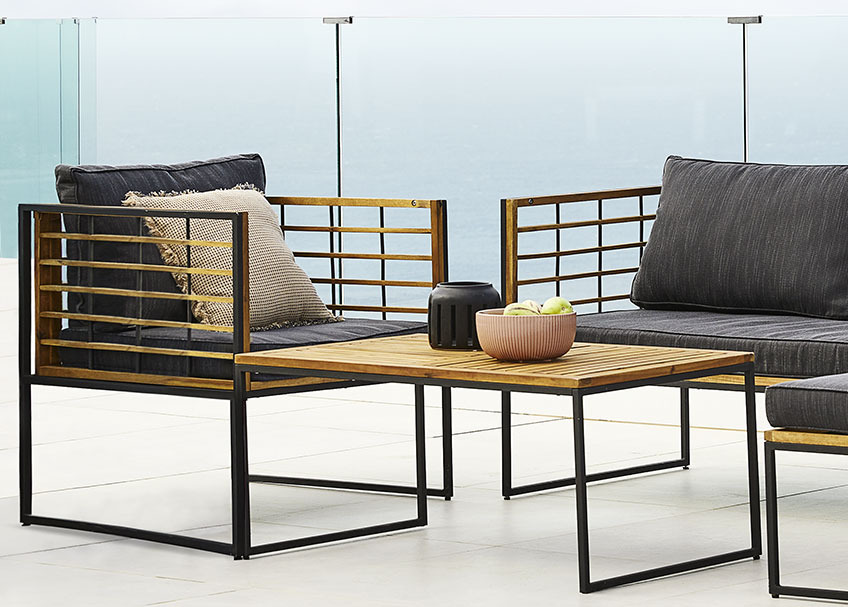 Complete your lounge area on the patio or balcony with the UGILT lounge table - perfect for an afternoon get together with snacks and cold drinks. The lounge table has an average rating of 4,4 out of 5 stars and at JYSK, we agree with this Czech customer who leaves it a 5-star rating and describes it like this:
"A Scandinavian design treat for lounging in the garden..."
UGILT planter box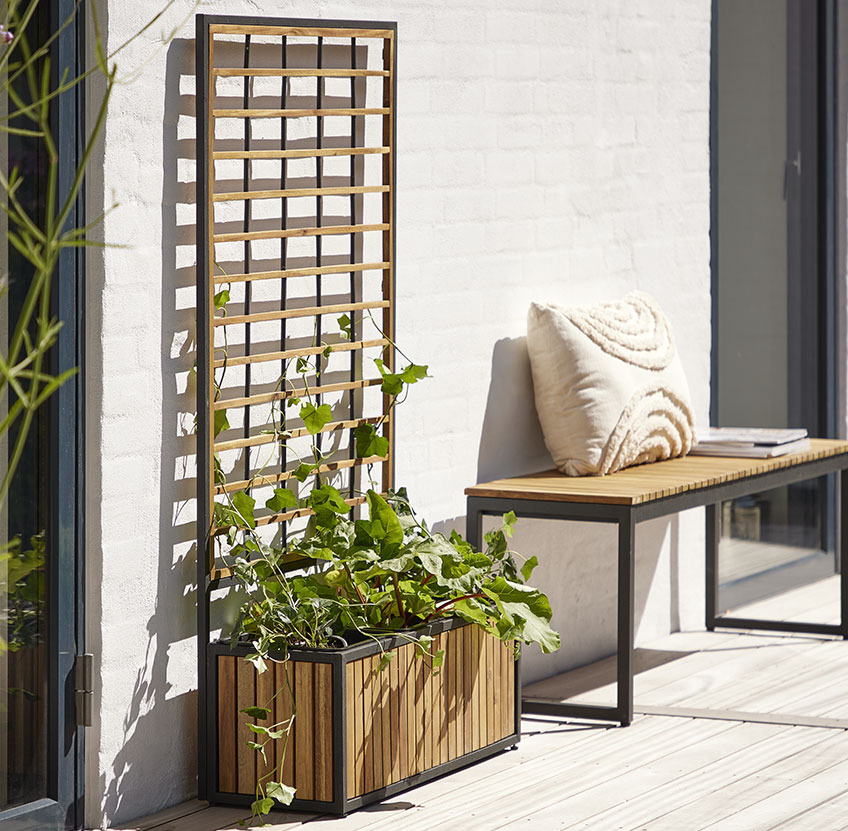 The UGILT planter box has a trellis that supports your plants and can let clematis plants or sweet peas climb. You can place it against a wall in a sunny corner of your patio, or use it as a room divider in your garden.
UGILT trolley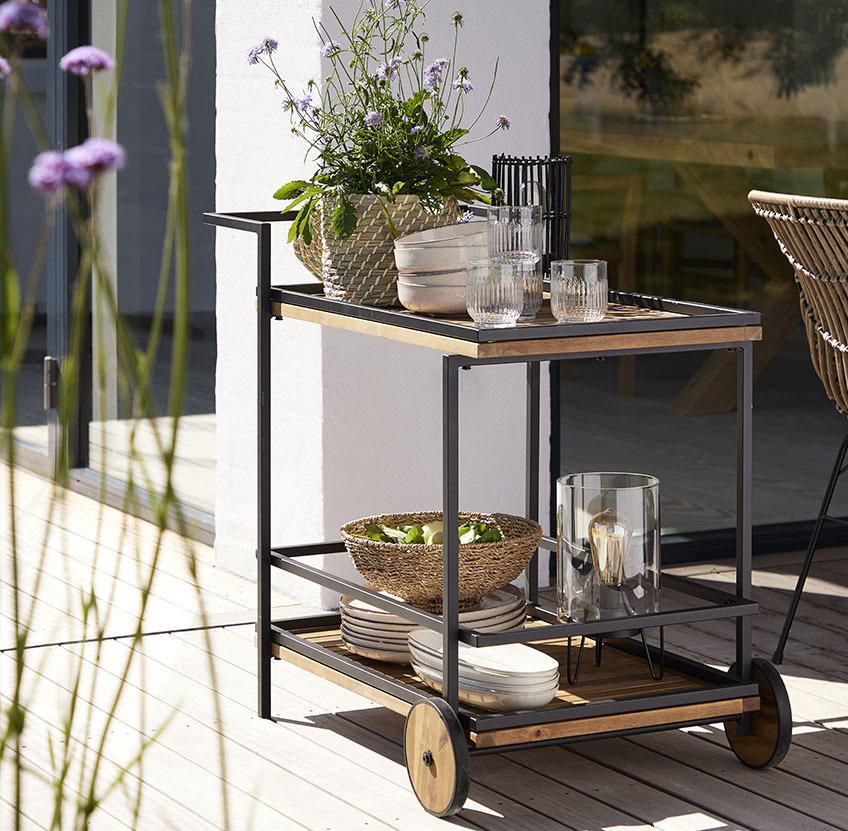 The UGILT trolley is both a practical and decorative addition to your balcony or patio. Use it for your outdoor kitchen equipment or as a small bar cart. One of our Danish customers leaves the trolley this review along with a 5-star rating:
"Nice table. Lovely materials and easy to assemble."
UGLIT bench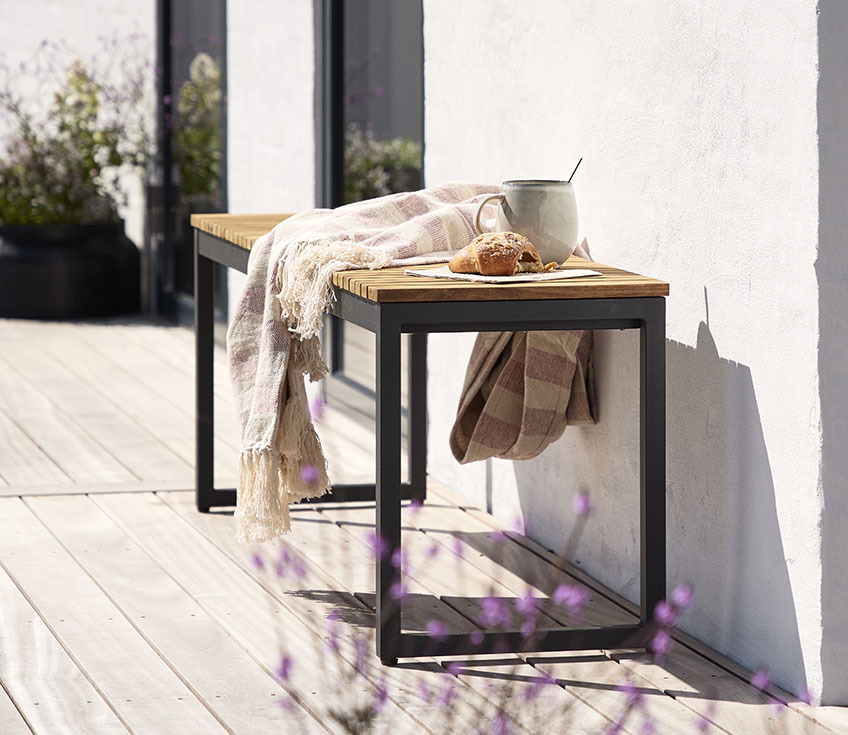 UGILT also comes in the shape of a bench – indispensable on a small balcony or patio, where multi-purpose furniture come in handy. In Greece, one of our customers uses it in different settings, and gives it a 5-star rating with this description:  
"Excellent value for money. Very useful, good size both as a bench and as a coffee table

Get tips to create a rooftop feeling with UGILT and other JYSK products
*The reviews stem from the following countries: Denmark, Sweden, Norway, Finland, Poland, the Czech Republic, Hungary, Slovakia, the Netherlands, Slovenia, the United Kingdom, Croatia, Bosnia and Hercegovina, Serbia, Ukraine, Romania, Bulgaria, Greece, Belgium, Ireland, Austria, Italy, Spain, France, Portugal, Germany and Switzerland in February, 2023.