In just a few steps, you can give your bathroom a new look. Arrange ornaments, faux plants and small storage options next to each other, roll up your towels in wicker storage baskets and use ceramic or glass dispensers for hand soap. There are many ways to go in terms of different styles and colours when decorating your bathroom and it doesn't necessarily have to cost you a whole lot. This blogpost provides you with some tips and tricks for redoing your bathroom décor on a budget.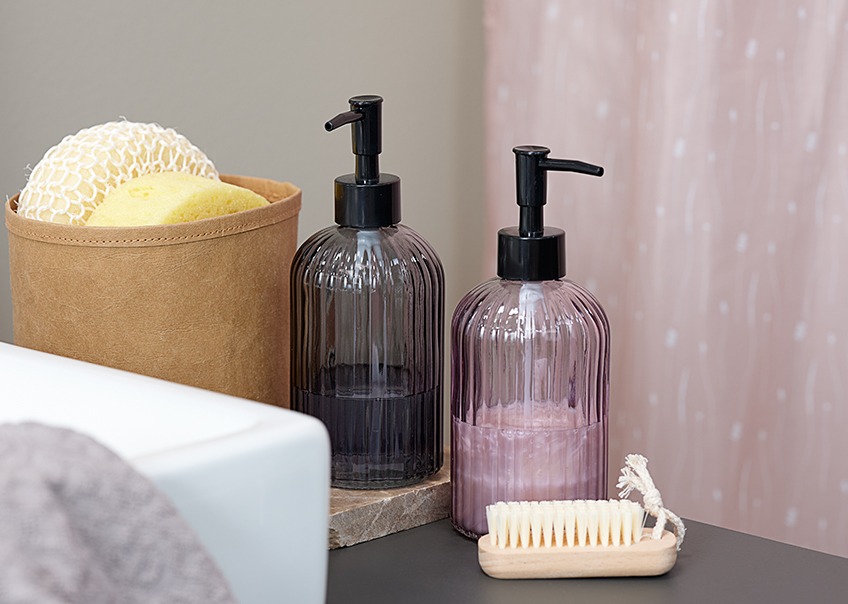 Make the most of your soap dispensers
Essential in every bathroom is the soap dispenser. As it is a part of the hygiene routine, it has to be there – so why not make it look decorative? Our ROSENLUND glass soap dispensers come in different colours. The clear glass makes it easy for you to take your bathroom décor in whatever direction you desire. For instance, you can choose to use a white soap with a mother of pearl look or maybe just a plain clear one matching your see-through soap dispenser.
You can also use your dispensers for other bathroom essentials like body wash, shampoo or lotion. That way, you ensure consistency and avoid having basic fabricated bottles as a part of your bathroom décor.
And don't forget sponges and a nail brush… Hygiene doesn't necessarily have to look clinical.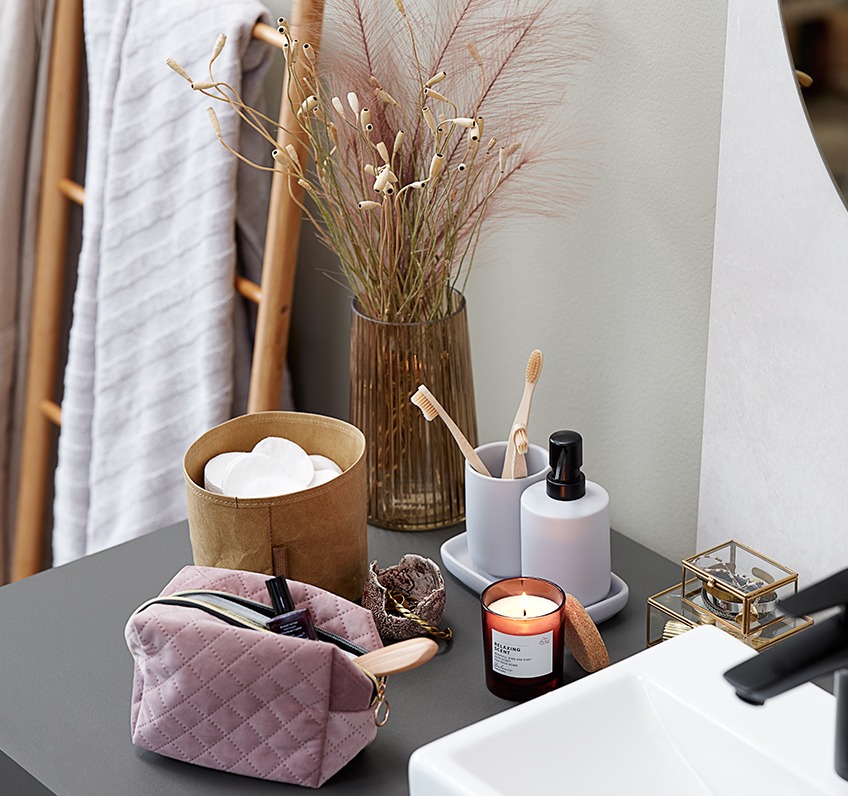 Turn your bathroom into a spa experience
Often, we keep all of our practical products and accessories in the bathroom. All the little things can easily be displayed in decorative storage jars. And why not make your toiletry bag a part of your bathroom décor? Choose your accessories in colours from the same colour scheme, but not necessarily in the exact same colour.
Our TORSLANDA bathroom set consists of a soap dispenser, toothbrush holder and a tray – and besides being decorative, it is also budget friendly.
An easy way to bring some life into your bathroom is through faux plants and flowers. The long lasting decorations are able to take care of themselves and last for a long time.
Don't underestimate the importance of maintaining a nice and relaxing scent in the bathroom. Scented candles are an easy way of turning your practical toilet visit into a spa experience.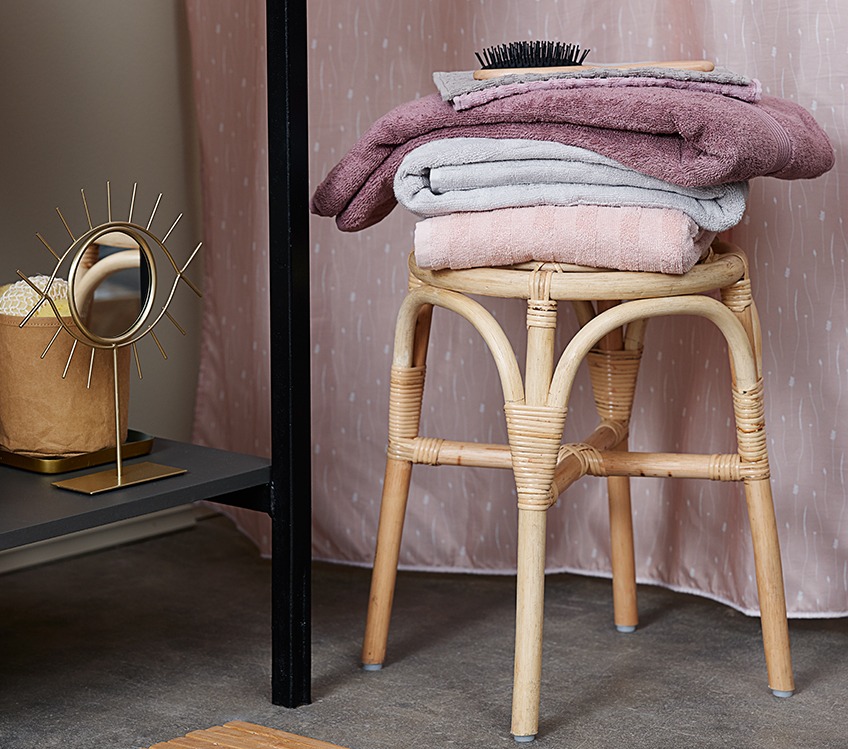 Out with the old, in with the new
Towels... What would a bathroom be without them? Hand towels, bath towels, guest towels… The many towels come in different sizes, looks, colours and materials.
In general, you should be aware of washing your towels regularly to prevent germs from spreading. It is therefore a benefit to have a stack of towels in stock to replace the ones you're currently washing. Like the many other bathroom essentials, towels doesn't necessarily have to be solely practical – they can bring colour into the room and create a vivid atmosphere.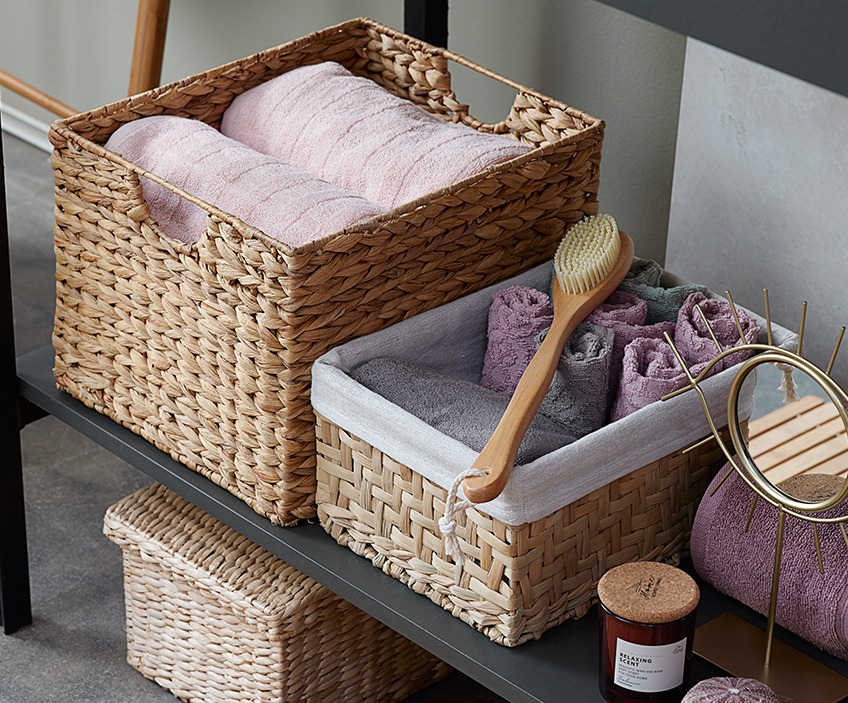 Reorganise in style
Roll, stack and arrange your towels and face cloths on your shelf or in modern wicker storage baskets. Not only does it look good, the towels are also easier to access.
Taking the time to organise and tidy up makes the bathroom look larger and you might also remember why you used to like the room so much in the first place.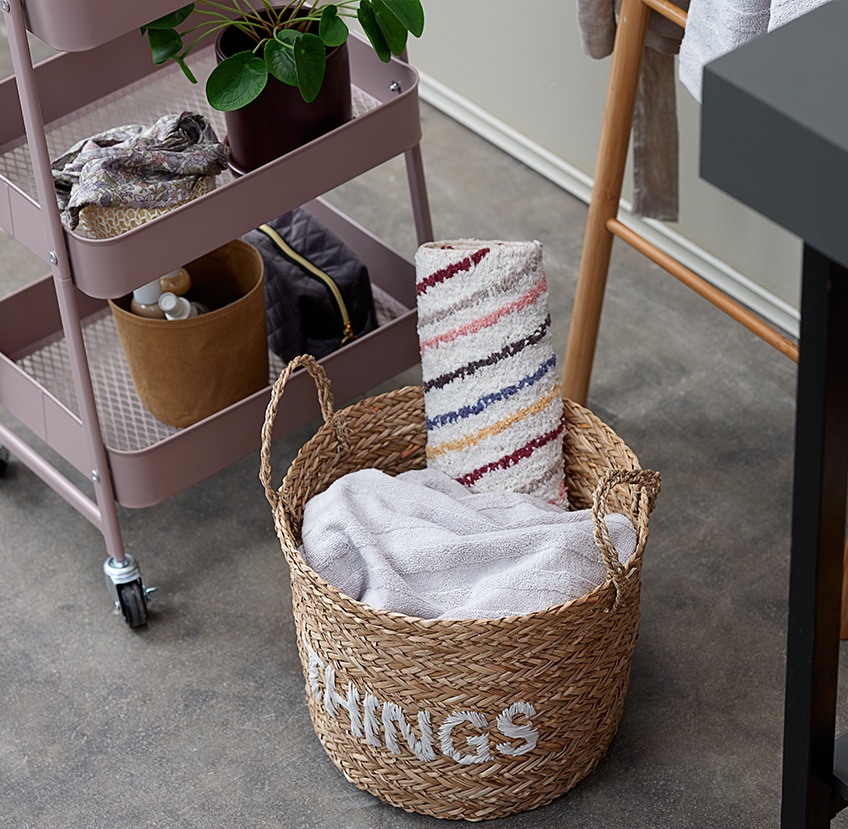 Change your surroundings
Changing your surroundings can just be a matter of moving around some of the items in your bathroom – for instance drawers, baskets and other storage.
Restyling your bathroom doesn't have to take a lot of time nor cost you a fortune. With some rearrangements and affordable bathroom essentials, your bathroom will appear brand new.