It is probably not something you think about every day, but the sound and acoustics in your home are crucial in terms of the comfort and experience of a room. The surface of your floors, ceilings and walls, along with your furniture and interior decoration, play a major role in whether the acoustics of the rooms in your home are good or bad. In other words, there are a variety of factors that play a role, when it comes to the quality of the sound in your home.
What makes an impact on the acoustics of a room?
You have no doubt witnessed the huge acoustic difference between an empty room and a room full of furniture and accessories. It can be almost seem uninviting in a home with unpleasant acoustics, as all of the sounds are loud and can give a certain echo.
The echos tend to happen in an empty room as the sound reflects between the walls, ceiling and floors. But with the right tips and ideas on how to furnish a room, the sound quality can improve and there will be a great significance in terms of the overall acoustics.
The right décor provides decent sound quality
A handful of small interior decoration measures can quickly provide better acoustics in a room. With a few key changes in your home with a reshuffle of furniture and a few added accessories, you can quickly transform the sound quality and make your room more pleasant. Things to think about to improve the acoustics of a room:
Avoid expansive, hard surfaces such as tiles, concrete, glass and smooth ceilings
Use rugs in your interior decoration scheme
Go for curtains rather than Venetian blinds
Avoid large window sections
Avoid an over-minimalist décor as this can cause the echos
Use upholstered furniture and accessories in your interiors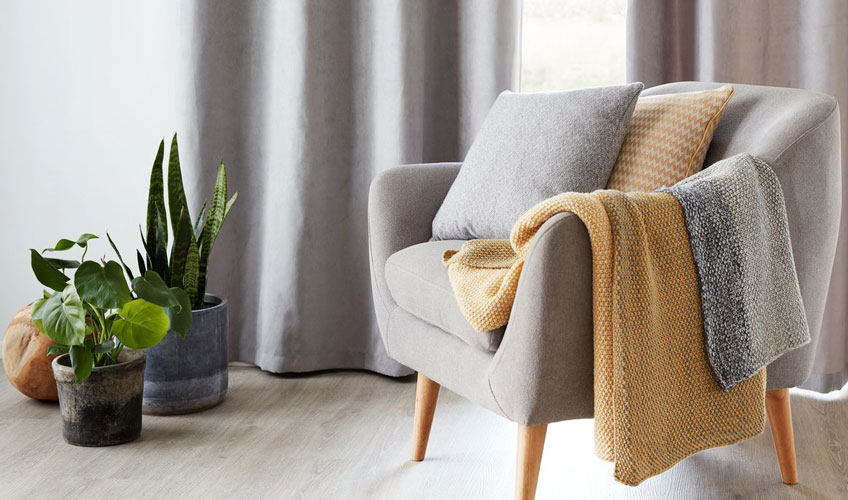 Other items that can improve and 'absorb' sound in a room include sloping walls, oblique angles and a bookcase or a room-divider.
Traditional, sound-absorbent materials
If you experience huge problems with poor acoustics in a room, you could fit sound-regulating panels on large wall surfaces. This might be, for example, in rooms with very high ceilings. It is a slightly more radical solution but it may be necessary if you have major problems with unpleasant, echoing sound in your home.
Another option is to go for invisible, sound-absorbent plaster on ceilings and walls. It is a more fiddly and more expensive solution, but it may be an idea if the other options don't improve the acoustics of the rooms in your home.