Interior design inspired by Feng Shui can help lend your home a warm, calm and inviting look. Feng Shui décor is substantially different from other styles of interior design, but once you have developed a taste for the style you can create a Feng Shui home in no time at all. Read on for some great ideas on how to give your home a dash of Feng Shui. 
Feng shui interior design – create a more harmonious home
Feng Shui interior design creates a Feng Shui home with a strong connection between your décor and your spirit. Some of the basic principles of Feng Shui focus on creating a calm, harmonious home. For example, one easy way of creating a touch of Feng Shui ambience in your home is to place a pillar candle on a platter or tray with a little water in the bottom, and then top with fresh flowers so they float around.  

Feng shui colours – how to use them in your decor
Some Feng Shui colours have a certain effect when it comes to stimulation of the mind and atmosphere in a room. Feng Shui colours are warm and tranquil colours such as peach, beige, pink, light green and light blue as these colours bring calmness to a room.
Soft colours like peach, beige and cream are perfect Feng shui colours for the bedroom as they have a relaxing and steading effect. Bright colours such as light green and light blue are preferable in the living room, because they are calm colours that encourage to peaceful and tranquil activities.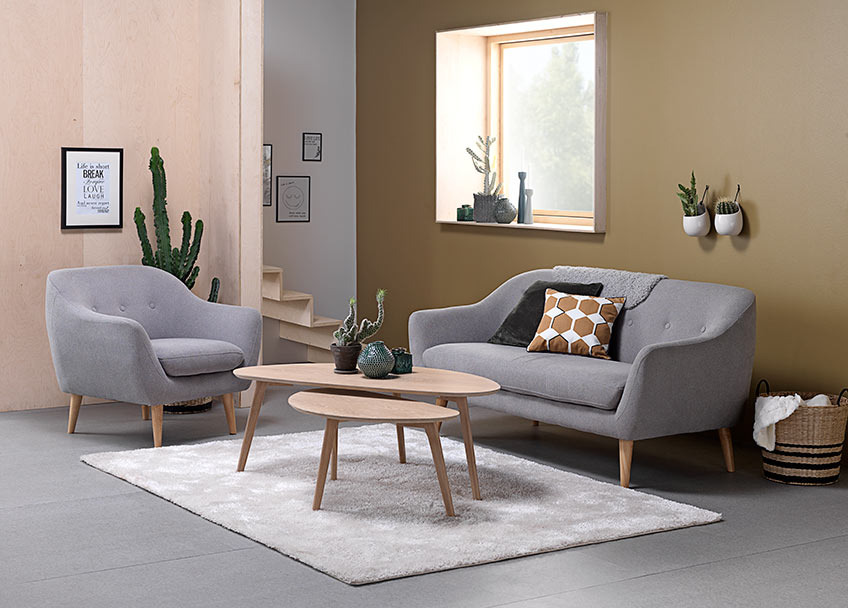 As well as using natual and calming colours it is also important to allow for plenty of natural light in your room as natural light is a direct way of providing energy. To add to the natural light even further you could add plants into your space as this will create an outdoor and calming atmosphere but also have a positive impact on us and our minds. 
A final thing might be to choose beautiful cushions in popular feng shui colours like light green, peach and beige to top off your décor and thereby complete a stylish Feng Shui home.

FENG SHUI INTERIOR DESIGN IN YOUR BEDROOM
3 tips:
Bed throw in a calm colour
Place your bed opposite your door
No electronics
It is important to decorate a bedroom with tranquil, pleasant colours: for example, peach, light blue, beige and golden brown. Decorating your bedroom according to Feng Shui principles can give you a better night's sleep. An easy way to achieve light and calming colours in your bedroom without redecorating is to add pillow cases, cushions and bed throws all in calm colours.

For many people, the bedroom is a 'private recharging room' so you should be sure to decorate your bedroom to make it a place for relaxing and unwinding. Your bedroom is your place for sleeping and recharging your energy resources for a new day so it is important to reduce the amount of electronic equipment in your bedroom (TV, mobile phone etc.) as much as you can.

Feng shui provides both you and your home with more energy
Feng Shui is an art form that is rooted in ancient Chinese culture. For many people Feng Shui is synonymous with improving all sorts of subtleties in life. To a great extent this is achieved by increasing your focus on creating good energy – both mentally and physically. So the main objective of Feng Shui is to create a form of harmony between people and their surroundings, which basically happens through an increased focus on the inner energy balance.
So Feng Shui style is also an interior design trend that can strengthen you, because it helps create an ambience in your rooms that exudes calmness and pleasure, making your home a place where you can replenish your energy.
Sources:
http://fengshui.about.com/od/childrenfamily/ss/Feng-Shui-Decorating-Steps-How-To.htm
http://fengshui.about.com/od/glossaryofterms/ss/What-is-Feng-Shui.htm
http://fengshui.about.com/od/designbyroom/ss/Feng-Shui-Living-Room-Decorating-Tips.htm