Outdoor inspiration - luxury terrace designs
Transform your terrace into a place of outdoor luxury. Create a relaxing summer oasis to spend time with friends and family, on a terrace that oozes style. Read on for terrace ideas and outdoor styling inspiration.
Take your living room outside
Most people associate a living room with cosiness, comfort and luxury. It is the place where we can really relax and create the perfect Hygge bubble. A sofa is probably the most comfortable item of furniture when considering an outdoor lounge, so it obviously deserves a place on your terrace.
If you want plenty of room on your outdoor sofa, choose a spacious corner sofa, which will also be suitable for sunbathing or a siesta in the fresh air. Or think about a couple of reclining chairs for you and your partner to relax on in the sun.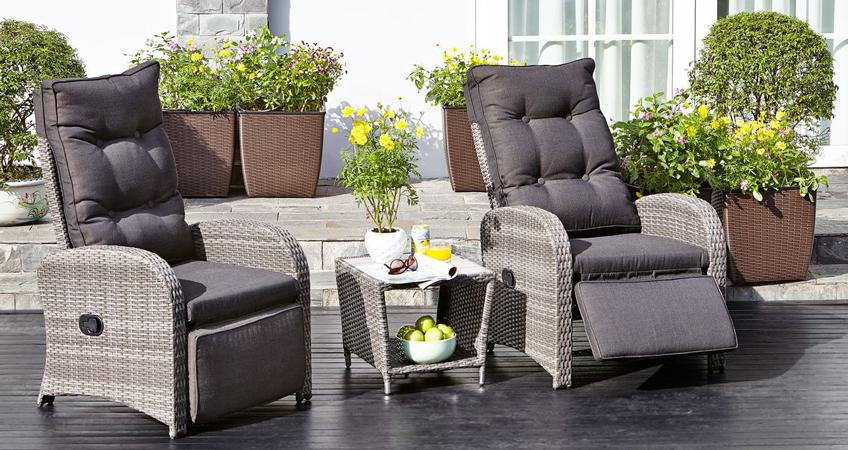 A complete outdoor lounge ambience
To round off your outdoor lounge, it takes a bit more than a couple of items of lounge furniture. The overall setting is also important because it can create a cosy atmosphere, especially important if relaxing outside with friends and family. 
Think about adding plants, especially if you're lacking any grass or greenery in your outdoor space. If you are not the green-fingered type, then you can also choose artifical plants which require no upkeep or maintenance. Combine with these with garden pots and planters in your terrace design for a chic look. Choose a large plant pot for a really luxurious look.
Large lanterns are also an important ingredient in terrace design. Choose some large, sturdy lanterns and display them on your terrace floor. A few large lanterns are more ideal than many small ones, and they will enhance the luxurious feel of your terrace. 

Make your summer evenings longer
On warm summer evenings, we cannot get enough of the great outdoors. Even when the dew falls, we still like the option of being outside. If the weather does not exactly contribute to the Mediterranean ambience of your outdoor lounge, it's a good idea to arm yourself with terrace design that can prolong your outdoor evenings.
A place for a bonfire is a brilliant idea for keeping warm. It's also very cosy to gaze into the hot embers. What also makes a bonfire charming is the option of toasting marshmallows or baking bread twists. Warm cosy blankets can also extend the time you spend outside. Make sure you have a few to hand so that your guests aren't left a bit chilly.