INFORMATION REGARDING our stores and how to shop At JYSK UK
Following government guidelines our stores have been closed, we will continue to operate our click and collect service at all of our stores, you can also choose to Order Online & Pick-up in store for a larger selection of available items. It is now possible to place an order with your local JYSK store directly over the phone. For more information click here.
 
Click & Collect store opening hours: 10am - 4pm Monday - Sunday.

For online orders with home delivery, please note that lead times may be longer than normal due to the large volume of orders received. If you have already placed an order for collection in-store we will be in touch as soon as your order is ready to collect. 
Our JYSK employees' and customers' Health and Safety are our top priority, and JYSK is continuously monitoring and adapting to the developing Coronavirus COVID-19 situation.
The majority of our enquires are easily answered by our FAQs below and we would urge you to review these before contacting us, as potentially you will save yourself a lot of time.

If you still have questions relating to your online order, for example; you wish to cancel or your delivery has gone beyond delivery timescales, please contact our customer service department via email at customerservice@jysk.com or telephone 03300 883818. Please note that our Instagram page is not monitored by our customer service team. At the moment we have extended lead time on home delivery due to the volume of online orders. 
We kindly ask customers to stick to their allocated collection time and please note, we can only accept card payments at this time.
The safety of our customers, colleagues and the communities we serve is the most important thing to us. We are making decisions daily to ensure we protect everyone during this period. It is really important that our staff and customers respect social distancing rules at all times. Two metres is the recommended minimum space between people outside of your immediate household. 
YOU CAN CLICK & COLLECT AND ORDER ONLINE AND PICK UP IN STORES
CLICK & COLLECT
Our collection times will be a little longer but we aim to have your order ready to collect within 24 hours. We will, of course, aim to get orders out as quickly as possible.
Once you have placed your order, you will receive an email confirmation.
Our store team will prepare your order and will contact you when your order is ready for collection. In the case that we are receiving a high volume of customer collections, you may be called by a store staff member and given a designated pick-up time. This is to avoid long queue times and gatherings at our stores.
Please note -  we can only accept card payments at this time.
ORDER ONLINE COLLECT IN STORE
This service is different to Click & Collect as you have the option of ordering a much larger selection of goods from our website, you'll also make the payment online.
At www.jysk.co.uk you add the articles you want to purchase to the online basket – once you are ready to pay you then select which store you would like to collect your order from and make the payment.
Once you have placed your order, you will receive an email confirmation.
The order is then packed at our Denmark Distribution Centre and shipped to the store of your choice.
Delivery Timescales are up to 10 - 13 working days from the date you placed your order.
Once your order has arrived in store our local team will contact you to let you know that your order is ready for collection.
Frequently Asked Questions
Can I order online for collection from store in the UK?
Fully Covid-19 compliant, our stores are open for Click & Collect and Order online pick up in-store. You will be able to select available stores upon placing your order. Please await for order confirmation prior to attending our store, during this period our Click & Collect picking times could be up to 48 hours. On arrival please follow signage present and adhere to 2 metre social distancing at all times.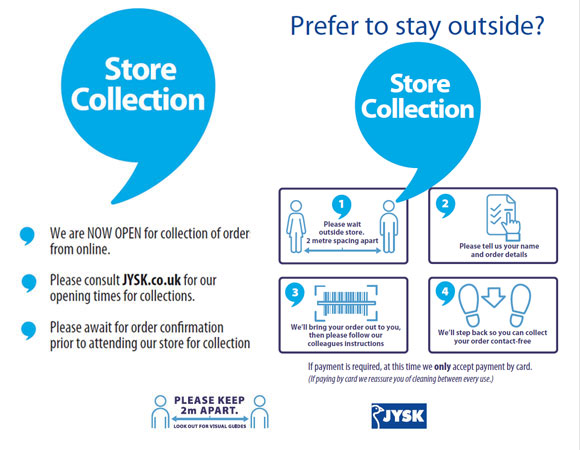 Will there be any delivery delays and can I get an update on my online order?
Our distribution centre is currently experiencing a high volume of orders and therefore we are experiencing delays. We are working hard to be as honest and upfront about current delivery timescales as much as possible. We trust at this time you understand the reason for this.

Our current delivery time scales are as follows:
Small parcel: 8-15 working days (excludes weekends and bank holidays)
Cargo: 10-20 working days (excludes weekends and bank holidays)
Order online pick up in-store: up to 20 working days (excludes weekends and bank holidays)
In order to serve our customers better we kindly ask that you ONLY contact our Customer Service team if your delivery has gone beyond the timescales above.
Why have you NOT taken funds from my bank account for my online order?
When you place an online order with JYSK we take your payment details and then hold your transaction in 'pending' with your bank. We only take the payment once your online order has been dispatched from our Denmark Distribution Centre.
It is our way of ensuring that you only actually make payment for your online order once they are on their way.
On occasion we are aware that the 'pending' transaction might not show on your bank account, this is a matter we are looking into. However, it does not mean that your online order has been cancelled if the 'pending' transaction disappears, if an order was cancelled you would hear from JYSK in the first instance.
Why do you charge a delivery fee for online orders?
We are very honest about our pricing and delivery costs, as such we do not build any delivery costs into the price of your purchase. This means the price you pay is the 'true' price of the product, rather than subsidising delivery costs.

Our online orders are shipped from Denmark to our courier and then shipped by courier across the UK – which incurs additional costs.
We do alternatively offer free delivery to our stores with an minimum order spend of £60.

Can I track my online order?
Once your order has arrived with our UK transport company – (Small parcel: DPD, Cargo: Rhenus Home Delivery) they will be in contact with you directly to advise of a delivery date and time. At this stage they will also provide tracking information for you.

It won't let me order something online, why?
If the 'add to basket' button on an article is not active this means that we currently don't have any stock of that item left. We are constantly working with our global supplier to replenish our Distribution Centre. We ask customers to check back in a couple of days to see if the article for ordering again.
What happens if I want to return an item?
At JYSK we already have in place a very fair refunds policy, unlimited returns without time limitation, therefore do not be concerned if due to the current situation you cannot return an item to us within a short time period as we will honour the return alongside our normal refunds policy.