INFORMATION REGARDING online orders At JYSK UK
Our JYSK employees' and customers' Health and Safety are our top priority, and JYSK is continuously monitoring and adapting to the developing Coronavirus Covid-19 situation. 

Our JYSK stores are now open, alternatively you can continue to shop at JYSK.co.uk.

From time to time we might have to make temporary closures to our stores as we monitor the situation and to secure safe working environments for our colleagues and customers who come to visit us. Please see our store information for more details on opening hours of your local JYSK.

Our delivery timescales are longer than normal for both JYSK.co.uk and our physical stores, we apologise for any inconvenience and we are working hard to serve you. Our volumes of orders received, especially Garden furniture, has been unprecedented and this has added a great deal of extra pressure onto our distribution channels. Our bottleneck is predominantly on pre-existing orders, especially for our physical stores whom experienced a substantial volumes of orders at the point whereby we reopened.

We will continue to monitor the situation for our physical stores, this means at times we might also need to temporarily close our Order Online Pick Up in Store and Click & Collect services in selected stores. We apologise for this, however it is to ensure we are able to best serve our customers and to ensure our store colleagues are able to cope with the demand.

We understand that our customers want to get in touch with JYSK for updates on their orders, please bear with us, our volumes received are currently +1000% increase compared to normal. We find that the majority of customer communications are answered by our FAQs and we would urge you to review these before contacting us, to save you time and help us reduce the backlog of customer communications.

In order to serve our customers best, we have to make the difficult decisions on how to best utilise our resources within Customer Services to serve the most customers in the most efficient manner. We find that the majority of our communications received at present are via email. Therefore, we have made the difficult decision to ensure focus on replying to our customers who have already contacted us via email – this means that we are limiting our opening hours on the telephones. However, we will increase the availability of our WebChat service.

If you still have questions relating to your online order, for example; you wish to cancel or your delivery has gone beyond delivery timescales advised. Please contact our Customer Service department via email at customerservice@jysk.com or telephone 03300 883818. Please note that our Instagram page is not monitored by our customer service team.

We understand it can be frustrating to wait for a longer period of time for a response than normal and our Customer Service team who are all working exceptionally hard during this time thank you for your patience. 
Following careful consideration and implementation of UK Government Covid-Secure guidelines, we are delighted to have reopened our stores here in the UK. When visiting our stores we will still be there to help you, just from a little further away than before. All our stores have Social Distancing measures in place, alongside directional signage, hand sanitising, increased focus on regular cleaning and limiting the numbers of customers in store at any given time. A more detailed overview of how we are making JYSK safe for you to visit is shown in the video below.
Frequently Asked Questions
Why am I still waiting for a response to my email?
Our Customer Service Team are working hard to reply to all customer emails – we currently have a large volume of enquiries via email and we will get back to you as soon as possible – aiming to achieve within timescales provided on your automatic reply you will have received.  
We reassure you that we are working through the emails and there is no requirement to send additional emails, sending additional/follow up emails will only increase the current workload level and create further delay for you and all customers.
Can I order online for collection from store in the UK?
Fully Covid-19 compliant, we have opened up for collection from store. You will be able to select available stores upon placing your order. Please await for order confirmation prior to attending our store, during this period our Click & Collect picking times could be up to 48 hours. On arrival please follow signage present and remain 2 metre social distancing at all times.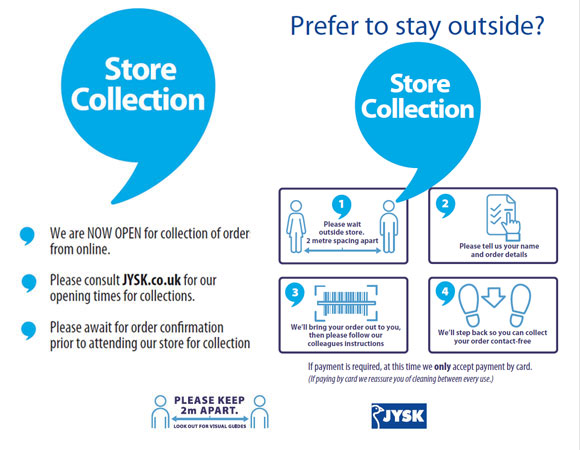 Will there be any delivery delays and can I get an update on my online order?
Our distribution centre is currently experiencing a high volume of orders and therefore we are experiencing delays. We are working hard to be as honest and upfront about current delivery timescales as much as possible. We trust at this time you understand the reason for this.

Our current delivery time scales are as follows:
Small parcel: 8-15 working days (excludes weekends and bank holidays)
Cargo: 8-20 working days (excludes weekends and bank holidays)
We are currently experiencing an increase (+600%) in volume of communications to our Customer Service team, we want to ensure that we are able to serve our customers in the best way possible, whilst also very aware that there will be delays in contacting us at this time.
In order to serve our customers better we kindly ask that you ONLY contact our Customer Service team if your delivery has gone beyond the timescales above. If you do contact us within the timescales we will NOT be able to advise you any further on the status of your order.
Why have you NOT taken funds from my bank account for my online order?
When you place an online order with JYSK we take your payment details and then hold your transaction in 'pending' with your bank. We only take the payment once your online order has been dispatched from our Denmark Distribution Centre.
It is our way of ensuring that you only actually make payment for your online order once they are on their way.
On occasion we are aware that the 'pending' transaction might not show on your bank account, this is a matter we are looking into. However, it does not mean that your online order has been cancelled if the 'pending' transaction disappears, if an order was cancelled you would hear from JYSK in the first instance.
Why do you charge a delivery fee for online orders?
We are very honest about our pricing and delivery costs, as such we do not build any delivery costs into the price of your purchase. This means the price you pay is the 'true' price of the product, rather than subsidising delivery costs.

Our online orders are shipped from Denmark to our courier and then shipped by courier across the UK – which incurs additional costs.
We do alternatively offer free delivery to our stores with an minimum order spend of £200.

Can I track my online order?
Once your order has arrived with our UK transport company – (Small parcel: DPD, Cargo: Rhenus Home Delivery) they will be in contact with you directly to advise of a delivery date and time. At this stage they will also provide tracking information for you.

It won't let me order something online, why?
If the 'add to basket' button on an article is not active this means that we currently don't have any stock of that item left. We are constantly working with our global supplier to replenish our Distribution Centre. We ask customers to check back in a couple of days to see if the article for ordering again.
What happens if I want to return an item?
At JYSK we already have in place a very fair refunds policy without time limitation, therefore do not be concerned if due to the current situation you cannot return an item to us within a short time period as we will honour the return alongside our normal refunds policy. Please note during our initial reopening days we are unable to accept returns in order to allow our colleagues to cope with the demands of our new style of operating.